This Batman Burger From McDonald's Is Even More Epic Than You'd Guess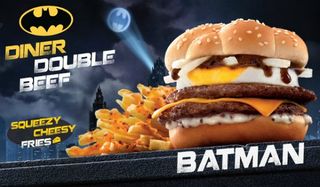 I think it's safe to say that Batman never stops at McDonald's on the way back to the Bat Cave after a long night of fighting crime. If he did, he might be surprised to discover that there's now a burger named in his honor.
McDonald's locations in Hong Kong are celebrating DC's superhero collective The Justice League (we're not sure why – that movie is a long way off at this point…), and the first themed meal is set to honor Gotham's very own Dark Knight, according to this post over at Geekologie. As far as starting points go, leading off with Batman is a good idea, but just what this burger and fries combo has to do with Bruce Wayne is beyond me.
Dubbed The Diner Double Beef, the new value meal features a burger with two patties, an egg, cheese, onion, and two unidentifiable sauces. One of the sauces looks like the stuff you put on country fried steak, while the other could be a chili sauce, or something else entirely. (Hey, I'm not Gordon Ramsay – I just write about movies). That's the main course, but the meal is rounded out with Squeezy Cheesy Fries, and a refreshing glass of green apple iced tea. Honestly, the whole thing looks and sounds disgusting to me, but maybe it's more suited to your palate. I like my eggs at breakfast, and my burgers unadorned with odd mystery sauces. I'm just old fashioned that way.
I can't even guess at how many calories this thing is going to set you back in a day, or the whopping amount of sodium that's probably been pumped into it, but I can tell you this – if you want to look like Batman in The Dark Knight Rises, you won't want to make The Diner Double Beef combo part of your daily eating regimen.
Since this promotion is centered around The Justice League, it seems likely that McDonald's will also eventually release meals for other heroes. I can only imagine what culinary delights will be revealed in the Superman, Wonder Woman, and The Flash packages. The real question is will there be a Martian Manhunter combo or is he just too niche?
Unfortunately, American superhero fans will have to wait and see if Batman's Diner Double Beef or any of the other Justice League combos make it here to the USA. McDonald's hasn't announced any plans to expand the meals to this market currently, and it would probably make more sense to wait until there's an actual Justice League movie before launching some big tie-in here in the States.
Your Daily Blend of Entertainment News
Thank you for signing up to CinemaBlend. You will receive a verification email shortly.
There was a problem. Please refresh the page and try again.