Batman Sequel Recasts Katie Holmes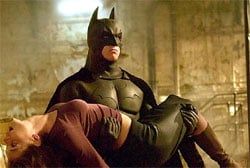 With all the Batman sequel rumors floating around it's hard what to believe. But if this one is true, it's the most shocking of the bunch. It's no secret that everyone was pretty unhappy with Katie Holmes in Batman Begins. I think we'd all assumed though that she'd either be back as Rachel Dawes, or Rachel Dawes would be replaced by some other babe of the moment for The Dark Knight. It looks like Chris Nolan has found a third option.
The Latino Review says that Rachel Dawes will be back for The Dark Knight, but she will not be played by Katie Holmes. Katie is right out, and they're recasting the role.
Will anyone care? Will anyone even notice? Probably not. But you have to wonder why they didn't just go with a completely different character. It's not like Rachel Dawes is an integral and irreplaceable part of the Batman universe. They hate Katie Holmes and don't want her back. I didn't think she was that bad, but alright I get that. Why bother keeping the character though? It just seems odd. The south of the border staff of LR has had a leg up on the Batman thing in the past, so there's good reason to believe they're shooting straight with us on this one. Still, wait for some sort of official announcement before you start buying "Katie Holmes is gone!" foam fingers.
Your Daily Blend of Entertainment News
Thank you for signing up to CinemaBlend. You will receive a verification email shortly.
There was a problem. Please refresh the page and try again.