Batman vs. Superman Is Filming This Weekend, And You Can Be In It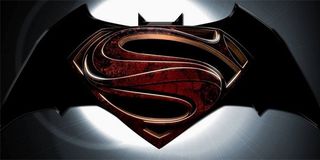 For all we know Ben Affleck has yet to step into the Batsuit and there's not even a villain in place for Batman and Superman to tussle with, but you-- yes, you!-- could have the chance to be in Batman vs. Superman this weekend. During this Saturday's football game between East Los Angeles College and Victor Valley College, the stadium will be transformed into Gotham City University-- and 2,000 fans in a special section of the stadium will be handed T-shirts so they can stand in for Gotham's most rabid football fans.
The report comes from ELAC's campus newspaper, where the college's event & venue coordinator Ernest Burnett tells them the shoot will take only 20 minutes, and entirely during halftime. "They could have done this on a night when we didn't have a home game," Burnett told them. "They wanted to support the school." There's no word on whether Henry Cavill or Ben Affleck will actually be part of the scene, but director Zack Snyder did design the T-shirts that bear Gotham City's colors of black and gold. Apparently they'll be faking a game between Gotham City University and their rival, Metropolis State University-- perhaps a preview of the showdown to come between each city's resident hero.
You probably remember that The Dark Knight Rises featured its own big football scene, this one featuring real football players but paid extras. It's unlikely Batman vs. Superman is aiming for anything nearly as big as that sequence, though, given that filming will take 20 minutes and the production only plans about 3 takes. But why does Batman vs. Superman include a football game at all? And will we get some reports from the fans on hand about a possible first appearance of Ben Affleck in the suit?
We're keeping a close eye on everything there is to know about Batman vs. Superman at this point, and we keep getting news that the film is further along than we'd think. With a 2015 release date in place filming was obviously going to have to start soon, but did anyone expect it to be this weekend?
If any of you make it to the game this weekend let us know what you see, and stay tuned for more details as full production on Batman vs. Superman gears up.
Staff Writer at CinemaBlend
Your Daily Blend of Entertainment News
Thank you for signing up to CinemaBlend. You will receive a verification email shortly.
There was a problem. Please refresh the page and try again.