Is Batman V Superman Going To Focus More On Batman?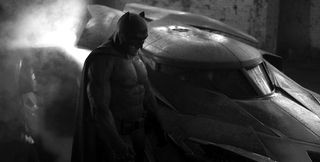 While the prospect of seeing a Batman/Superman live-action team-up movie has been an exciting thought for comic book fans, Batman V Superman: Dawn of Justice might not be the film fans had dreamed about for years. Aside from the fact this film is essentially serving as a prologue to Justice League Part One, a large portion of the attention on this production has centered on Ben Affleck's Batman, or Batfleck as the Internet affectionately calls him. One would think Superman and Batman would the same amount of coverage, but despite the two of them sharing the title, there's a chance that the Caped Crusader will be the headlining character of the movie.
Insiders talking to Batman-On-Film.com say that the first teaser trailer for Batman V Superman will be "Batman heavy." Keep in mind that this film is meant to be a follow-up to Man of Steel, a Superman origin story. So when people watch the first trailer for the 2016 blockbuster, instead of primarily seeing Superman or getting an equal amount of time with both characters, Batman will be the main focus. This may be indicative of the story we'll get. Superman may be an important character, but Batman is the top dog.
Considering what we've seen so far of the movie, this wouldn't be that surprising. Batman was the first character that got an official image, although since we already knew that Superman would be wearing a similar suit, it makes sense that showing off the Batsuit AND Batmobile was the priority. At the San Diego Comic-Con, most of that teaser footage focused on Batman in his armor, with only a couple seconds dedicated to Superman looking pissed off. There have more reveals concerning Batman's supporting characters, and Ben Affleck has definitely been in the interview seat more than Henry Cavill recently. The narrative will also skew towards the Dark Knight, as the film's theme is rumored to be "anti-Superman." There will be protests against the alien superhero, as well as a scene showing Bruce Wayne saving people after an attack on Metropolis. Man, Superman hasn't had the best of luck helping out citizens in this universe.
So why would Warner Bros. do something like this? Simple: Batman is their most popular superhero. Superman is a pop culture icon, but as far as movies go, he hasn't had nearly as much success at Batman. With a few exceptions, Batman films have primarily been critically and commercially successful, and his is the second highest-grossing superhero movie series (behind Spider-Man). In order to draw in a bigger audience, they'll put more attention on the superhero that people are more familiar with. It doesn't matter that by the time the movie comes out, Christopher Nolan's Dark Knight trilogy will only have been gone for four years. If Batman sticks people in those theater seats, then Warner Bros. will make sure there's as much of him as possible.
Regardless, we won't have to wait much longer for the first Batman V Superman teaser trailer. Batman-On-Film also says the teaser is ready to go and will be released with a November or December film release, although exactly which movie is unclear, although it would be a good idea to keep an eye of The Hobbit: Battle of The Five Armies. Attaching a blockbuster trailer to a blockbuster movie would be a good move.
Your Daily Blend of Entertainment News
Connoisseur of Marvel, DC, Star Wars, John Wick, MonsterVerse and Doctor Who lore. He's aware he looks like Harry Potter and Clark Kent.