Batman's Age Range Confirmed By Batman v Superman Producer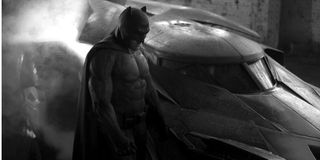 Batman and New Jersey go together like pork roll, eggs, and cheese. Not only is New Jersey geographically proven to be the home of Bruce Wayne's stomping grounds, it's also the home of two of the biggest Batfans ever. One, naturally, is Kevin Smith, while the other is name that's been associated with the brand for longer than Smith's has, but is one you probably don't remember: producer Michael Uslan. So of course, leave it to a Jersey boy to give a Jersey paper the scoop on just how old Jersey's own crime fighter is going to be in Batman v. Superman: Dawn Of Justice.
The Asbury Park Press, a big deal in Uslan's native Ocean County area, recently featured an interview with the man who secured the rights to Batman leading up to its 1989 feature film revival, and has been with the franchise for each cinematic (and a lot of, if not all of, the animated films) entries. In this interview, Michael Uslan talks about the many casting pitfalls the series has run into over its 25 years of cinematic history. Obviously, this is a good time to address the controversial casting of the man who would be known as "Batfleck," and in doing so, bury the lead big time as his interview ends with this loaded quote:
You can almost hear the Internet fist pumping in vindication of recent source accuracies. Badass Digest guessed about Bruce Wayne being in his 50's, which is was close enough to not totally be debunked. Close usually only counts in horseshoes and hand grenades, but we can let this slide because the difference in years isn't that big of a deal. Let's just hope that sources also are right about the Batcave containing a shrine for Robin, because if it does then there's a lot of questions that'll need to be answered in the coming months of production.
What is a big deal is that we're dealing with a more mature Batman than we're used to. When you think about it, Batman has always been old enough to kick ass, but young enough to keep kicking ass. An older, more weathered Batman is something we've only ever seen in the comics and in cartoons. To actually get this era of Batman/Bruce Wayne on film is something that is not only unique but also opens the world of DC's Cinematic Continuum to some extraordinary possibilities.
For now though, the fact that Ben Affleck will be playing an older Bruce Wayne and Batman is confirmed, so you can adjust your joy/outrage towards Batman v. Superman: Dawn Of Justice accordingly, in advance of its March 25th, 2016 release date.
CinemaBlend's James Bond (expert). Also versed in Large Scale Aggressors, time travel, and Guillermo del Toro. He fights for The User.