Batman v Superman: Scoot McNairy Drops More Clues About Who He's Playing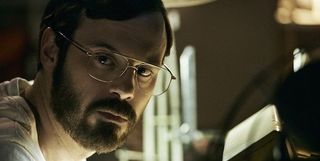 Although details surrounding the plot of Batman v Superman: Dawn of Justice are being kept under wraps, we know who most of the main players will be - ranging from Jesse Eisenberg's antagonist Lex Luthor to Gal Gadot's Amazon demi-goddess Wonder Woman to Jeremy Irons' butler extraordinaire Alfred Pennyworth. Among the few roles that are still a mystery, however, is the character being played by Scoot McNairy - Ben Affleck's costar from Argo and Gone Girl. Despite his casting being announced five months ago, the production has kept his character's identity locked up tighter than Superman's Fortress of Solitude. But now the actor has offered fans some new clues for us to mull over.
McNairy was playfully vague with his answers about Batman v Superman: Dawn of Justice during a recent interview with USA Today (opens in new tab), saying that while he would love to talk about who he's playing, that might result in him not being able to score a film role again. However, he did give us some new clues to who he is playing - specifically that the part is unlike anything we've ever seen him play before. Said McNairy,
Not having played this type of character doesn't narrow things down much, although if you spent enough time browsing his filmography, you might be able to exclude a few options. McNairy's recent roles include starring as Gordon Clark on the AMC series Halt and Catch Fire and as Tommy O'Hara in 2014's Gone Girl, so computer expert and former boyfriend of a kidnapped woman must be off the list. The only visual clue we have so far is a leaked picture of McNairy on the set wearing green-screen socks over his calves.
It was these photos that led some fans to speculate that he might be playing The Flash, though Ezra Miller being cast a few months ago as the Scarlet Speedster put that idea to rest. Other guesses have ranged from Superman's cyborg nemesis Metallo to an older version of Daily Planet photographer Jimmy Olsen. There's also the possibility that he's playing someone original to the film, and those socks will be used in post-production to make it look like his legs have been injured. Since McNairy described the role as putting his head in a whole different place, I'll assume that my theory that he's the hot dog vendor camped outside The Daily Planet is incorrect.
You can catch Scott McNairy alongside the rest of the cast when Batman v Superman: Dawn of Justice hits theaters on March 25, 2016.
Connoisseur of Marvel, DC, Star Wars, John Wick, MonsterVerse and Doctor Who lore. He's aware he looks like Harry Potter and Clark Kent.
Your Daily Blend of Entertainment News
Thank you for signing up to CinemaBlend. You will receive a verification email shortly.
There was a problem. Please refresh the page and try again.