How Lex Luthor Will Be Involved In Suicide Squad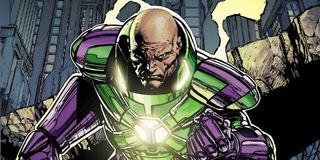 Jesse Eisenberg's Lex Luthor is set to play an integral part in the upcoming Batman v Superman: Dawn of Justice, but like the DC heroes, his involvement will spill out into the larger cinematic world Warner Bros. and DC Comics are currently building. As has been rumored for a few months now, following Zack Snyder's film, Luthor will be showing his face once again in David Ayer's supervillain team-up, Suicide Squad. And while we recently learned details about how Jared Leto's Joker will be involved in the film, now the time has come for us to \turn our attention to Superman's greatest enemy.
SPOILER WARNING: What follows may contain spoiler information for David Ayer's Suicide Squad. If you do not wish to know any big details about the film prior to its release, we would recommend heading to another one of our articles.
Latino Review are claiming to have confirmed inside information from two anonymous sources about what we can expect from Suicide Squad, and the particulars about Lex Luthor's involvement are particularly interesting. According to the sources, Luthor will be the driving force behind the main premise. Amanda Waller (played by Viola Davis) discovers that he's involved in human trafficking — or to be more accurate, superhuman trafficking. To stop him, she enlists the aide of Deadshot (Will Smith) and Harley Quinn (Margot Robbie), both of whom were only recently imprisoned in the high-security prison of Belle Reve.
However, the team is only informed that Luthor is involved with "bio weaponry," but upon investigating, they reveal this to be Enchantress. Another LR source says Cara Delevingne's character will be similar to her comic book iteration, in that she has a split personality — one half is June, the other is an evil sorceress. Luthor has some sort of master plan up his sleeve that involves Enchantress' magical abilities. In the comics, these included a wide range of effects, from telekinesis to shape shifting to elemental and mind control.
Much like with the overall DC cinematic universe, larger details on Suicide Squad and Eisenberg's portrayal of Luthor are still a mystery. Though, there's plenty of gossip to get your geek juices flowing. Previous reports have pegged him as a Mark Zuckerberg-like businessman who's plenty cocky because of all the success he's achieved at such a young age (not to mention his genius intellect). It has also been suggested that he'll be keeping his wavy locks for the film. However, we've seen the first photo of him on the set of Now You See Me 2, and it honestly looks like he recently had a shave.
So far, all we know for sure is that David Ayer is directing the film and that the fantastic ensemble cast the cast includes the aforementioned Jared Leto, Viola Davis, Will Smith, Margot Robbie, Cara Delevingne and Jesse Eisenberg. In addition, Jai Courteney is attached as the villain Boomerang, while Tom Hardy has dropped out of the role of Waller's righthand man Rick Flag. Jake Gyllenhaal is rumored to replace him, but that has yet to be confirmed. All will be revealed, though, as we get closer to the August 5, 2016 release date.
Your Daily Blend of Entertainment News