Beetlejuice Sequel Still On? Seth Grahame-Smith Teases On Twitter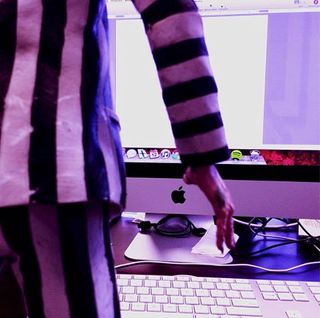 Following the smashing success that was the spirited black comedy Beetlejuice, talk of a sequel predictably began. Thankfully, the proposed Beetlejuice Goes Hawaiian never came to fruition. (I love me some Beetlejuice, but that sounded insanely terrible.) But we have seen the last of Tim Burton's ghost with the most!
Back in 2011, Pride and Prejudice and Zombies author Seth Grahame-Smith resurrected talk of a Beetlejuice sequel. In early 2012, Tim Burton bolstered the project's prospects among fans by confirming that Grahame-Smith's sequel had his blessing, and that Michael Keaton was slated to return as the moldering menace in the cartoonish striped suit. And we might have our first look at Keaton (or someone) in costume thanks to Grahame-Smith's Instagram feed!
Admittedly, this image is not a lot to go on. I tried to get all Sherlock Holmes on it, but as devoted a Keaton fan as I am, I can't comfortably confirm that this is him. Actually, I have a sneaking suspicion because of the strange texture of the striped suit that Grahame-Smith is holding up a Beetlejuice action figure and using some tricky forced perspective. If that's the case, what does this tweet mean? Is there any relevance to the computer screen? Is Beetlejuice's arm blocking the crucial details of the sequel's title page? Or is Grahame-Smith just toying with us? (Pun intended.)
We just don't know! But we do know that Grahame-Smith, who recently scripted Abraham Lincoln: Vampire Hunter and Burton's Dark Shadows adaptation, will be picking up the plot 26 years after the first film's musical finale. Whether this plot will include the Deetz and/or Maitland families is (frustratingly) unknown.
Maybe if we all chant "Betelgeuse Betelgeuse Betelgeuse, " in unison this project will finally kick into gear. Ready? On three…
Staff writer at CinemaBlend.
Your Daily Blend of Entertainment News
Thank you for signing up to CinemaBlend. You will receive a verification email shortly.
There was a problem. Please refresh the page and try again.