Ben Affleck Casts A Key Role In His Period Crime Drama Live By Night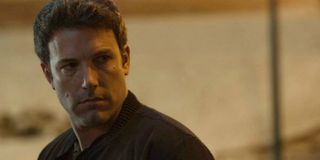 With the exception of Batman v Superman: Dawn of Justice, Ben Affleck's next big post-Gone Girl film is Live By Night. The project has been gathering more and more buzz, thanks to some of its more high-profile casting. Now, a crucial role alongside Affleck has been been filled by Chris Messina.
Variety reports that Messina, who you know from The Mindy Project, where he plays Dr. Danny Castellano, the love interest of Mindy Kaling's Mindy Lahiri, will co-star in Live By Night opposide Ben Affleck. Previously, he had a major part on Aaron Sorkin's HBO series The Newsroom, in which he plays Reese Lansing, the son of the network's original owner.
Live By Night is set in the Prohibition era and examines the world of organized crime. Based on the Dennis Lehane novel of the same name, the summary describes the story as the "making and unmaking of a gangster," telling the tale of a man's rise from being a petty thief in Boston to becoming the most successful rum runner on the Gulf Coast.
Affleck will presumably take the lead role of said gangster, while the report states that Messina will play his best friend and partner in crime. Maleficent's Elle Fanning, Foxcatcher's Sienna Miller, and Guardians of the Galaxy's Zoe Saldana are also in negotiations to star in the film, which will be produced by Affleck and Jennifer Todd through their banner Pearl Street, as well as Leonardo DiCaprio and Jennifer Davisson Killoran's Appian Way company.
Live By Night has long been in development, and Messina — much like Fanning, Miller, and Saldana — was said to be eyed for a starring role for quite some time. However, Affleck was committed to Gone Girl and the upcoming Batman v Superman: Dawn of Justice, both of which slowed down the process. Variety reports that filming is finally expected to commence this November. In the meantime, more offers will go out to firm up the remaining cast.
This marks a rare role in a major release for Messina. Aside from TV, he's been sticking to the indie realm for the most part, such as with roles in Cake with Jennifer Aniston, Manglehorn with Al Pacino, Alex of Venice with Mary Elizabeth Winstead, and alongside James Franco in Palo Alto.