Ben Affleck Will Expose FIFA's Corruption In New Movie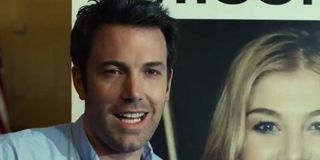 Even before the current Women's World Cup kicked off earlier this month, FIFA, the governing body of international soccer, was all over the headlines thanks to the corruption scandal that led to organization head Sepp Blatter stepping down. Because Hollywood loves a good topical story, the kerfuffle is getting its own movie, and it will have a helping hand from Batman himself, Ben Affleck.
According to The Hollywood Reporter, Affleck is taking a break from his duties as the Caped Crusader, as well as his other gig, directing award-winning movies like The Town and Argo, to lend his weight as a producer to the big screen version of these events. Warner Bros. just won an escalating marathon eight-day bidding war for the rights to House of Deceit, a book proposal by BuzzFeed reporter Ken Bensinger, that is being heralded as the "definitive" account of Chuck Blazer, an American executive with FIFA, who played a major role in what is the biggest scandal in sports history. Bensinger was nominated for a Pulitzer Prize for his investigative journalism in the matter.
Blazer had a huge part in helping popularize soccer in the U.S., and the one time unemployed "soccer dad" went on to rise up the ranks and hold positions of great power in the soccer world. Definitely a passionate supporter of the sport he loved, he was also corrupt as all hell. He earned the nickname Mr. Ten Percent because that's essentially the cut he skimmed off of the top of profitable TV deals and sponsorships and kept for himself.
But like many tales of massive corruption, his began to spiral out of control as accusations of corruption, tax evasion, bribery, and more began to pile up over the years. In an especially cinematic twist, he was also informing for the FBI and was an important witness in the arrests of FIFA executives this past May. Don't worry if this sounds like a taut political thriller with lots of talking, there will also be some action, too, as Bensinger's proposal also includes accounts of Blazer being slide-tackled by two Feds, including an IRS desk jockey. That should be fun.
Gavin O'Connor, who directed the Tom Hardy-starring MMA drama Warrior and the real-life hockey tale Miracle, is set to take the helm on House of Deceit. He also just wrapped up production on The Accountant, headlined by Affleck. The actor and pal Matt Damon will produce Deceit through their Pearl Street Films banner, which is based at Warner Bros., along with Guymon Casady and Darin Friedman and their Entertainment 360.
Hopefully House of Deceit will be more profitable for everyone involved than the FIFA-produced United Passion, which recently became the lowest grossing theatrical movie in U.S. history. That's an impressive feat.
Your Daily Blend of Entertainment News
Your Daily Blend of Entertainment News
Thank you for signing up to CinemaBlend. You will receive a verification email shortly.
There was a problem. Please refresh the page and try again.