Ben Kingsley, Julian Sands, And Jena Malone Sign On For A Doll's House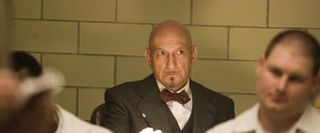 They say art is timeless. That may not always be true, but we can probably say this much: all art eventually becomes timely again. Case in point, Henrik Ibsen's play A Doll's House, which is being adapted and set amongst the modern economic crisis by writer/director Charles Huddleston. He's already lining up a hell of a cast, as well: Variety reports that Ben Kingsley, Julian Sands, and Jena Malone are on board for the film.
Ibsen's play, originally premiered in Copenhagen, Denmark in 1879, centers around a family struggling with financial troubles and secrets that threaten to split them apart. Huddleston adapted the play along with Michele Martin (who previously co-wrote Dadgum, Texas with Huddleston). Martin is also acting in A Doll's House, playing the lead female role of Nora Helmer. Kingsley and Malone will be taking on the roles of Dr. Rank and Christine Linde, friend of Nora's. Sands will be playing a moneylender named Nathan Gynt.
Huddleston says that he believes the play is more relevant than ever today, when recession and faltering economies fill every nightly news broadcast. He told Variety that "by bringing [A Doll's House] into today's world I'm going to heighten the characters' emotional turmoil and send them on a frightening journey where their deceptions and financial decisions threaten not only their social standing but their lives." There's no question the story will hit all too close to home for many potential moviegoers, but I hope nobody goes into it hoping to be cheered up...
Kingsley has several interesting projects on the horizon, in addition to this new one. He's appearing in Sacha Baron Cohen's The Dictator alongside an eclectic cast including John C. Reilly, Anna Faris, and Megan Fox. He's also on board for The Last Voyage of the Demeter, which follows the ill-fated ship that carries Dracula's coffin from Transylvania to England in Bram Stoker's infamous novel.
Your Daily Blend of Entertainment News
Thank you for signing up to CinemaBlend. You will receive a verification email shortly.
There was a problem. Please refresh the page and try again.