Ben Kingsley's Secret New Marvel Project Revealed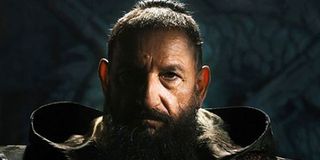 Last summer, Ben Kingsley blew our minds as The Mandarin in Marvel's spectacular Iron Man 3. But even though his bold baddie was in police custody by the film's final curtain, this was not the last we'll see of Kingsley's conniving character. Earlier this month, Kingsley delighted fanboys and fangirls alike with his reveal that he was reuniting with Marvel for a secret project, and Latino Review has followed up with some crucial details.
When Kingsley first teased us with his character's return, we broke down the possibilities, which ranged from a reprisal in an upcoming Marvel movie, a cameo on the spin-off TV series The Agents of S.H.I.E.L.D., a post-credits sequence appearance or a role in Marvel's One Shots. Latino Review says it's definitely a One Shot, meaning Kingsley reteamed with the Iron Man 3 crew to create a short film that will be a self-contained story that can also set up world-building for future Marvel projects. But before we get to what story The Mandarin's got brewing, a warning: from this point on we will be discussing the specifics of Iron Man 3. So spoilers ahead for one of the biggest movies that's opened this year.
At the end of Iron Man 3, Tony Stark bursts into the top secret facilities of the infamous international terrorist The Mandarin only to discover he's a front for the evil machinations of Stark rival Aldrich Killian. Basically, "The Mandarin" is a cover-up embodied by a drug-addled actor named Trevor Slattery.
While some moviegoers (including some of us at Cinema Blend) loved this twist on the old Iron Man villain, others were outraged. And that latter group will be pleased to hear LR's report that the true Mandarin will surface in this One-Shot. Yup, The Mandarin is real, and he's pissed off that Killian and Slattery have made a mockery of his name and legacy. He will rise "to set the record straight." How remains to be seen. But it looks like bad news for the cowardly Slattery.
From here it'll be interesting to see who is cast to play the true Mandarin. While we wait for Marvel to comment on this story, feel free to tell us in comments who you'd like to see take the role.
Next up from Marvel Studios is Thor: The Dark World, which hits theaters on November 8th. Captain America: The Winter Soldier will follow on April 4, 2014. Then a new cast of Marvel heroes will surface on Guardians of the Galaxy, set to open on August 1st, 2014. And finally, May 1st, 2015 will bring the return of Earth's Mightiest heroes in The Avengers: Age of Ultron.
Staff writer at CinemaBlend.
Your Daily Blend of Entertainment News
Thank you for signing up to CinemaBlend. You will receive a verification email shortly.
There was a problem. Please refresh the page and try again.