Samuel L. Jackson Confirms Elizabeth Olsen Is Scarlet Witch In Avengers: Age Of Ultron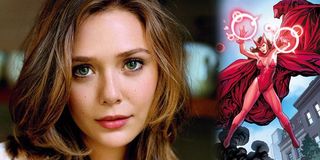 Since word first arose that Joss Whedon would be bringing in the brother-sister act of Scarlet Witch and Quicksilver to Avengers 2, all corners of the internet have been speculating on who might land these coveted roles. Early on Saoirse Ronan was offered the part, but turned it down. By end of summer indie It girl Elizabeth Olsen was rumored for Scarlet Witch, and her casting has now been confirmed by the one and only Samuel L. Jackson. While discussing his cameo on Marvel's Agents of S.H.I.E.L.D with The Wall Street Journal, Jackson spoke about the upcoming Avengers sequel The Avengers: Age of Ultron and (name)dropped this casting confirmation:
This is big news for Olsen. The younger sister to former child stars Mary-Kate and Ashley Olsen broke through in 2011 appearing in a trio of independent features, the chilling horror remake Silent House, the family-dramedy Peace, Love & Misunderstanding, and the critical darling cult drama Martha Marcy May Marlene. The following year she appeared opposite Robert De Niro and Sigourney Weaver, albeit in the admittedly forgettable Red Lights. And coming up for the celebrated starlet are lead roles in Spike Lee's Oldboy and Gareth Edwards Godzilla. Both show Olsen's trajectory into more mainstream movies, but neither of these can hope to be as big as Age of Ultron will be.
Though she has spectacular powers that include manipulating probability and creating hexes, Scarlet Witch was initially considered a surprising addition to the Avengers' crew. Sure, in the comics she has been on the Avengers Unity Squad, but she is more often associated with X-Men comics, as her father is Magneto. Whedon will presumably have to avoid this affiliation if Marvel Studios hopes to avoid being sued by Twentieth Century Fox, who owns Magneto's character rights. But then again, Quicksilver appears to be popping up in both franchises, so who knows? However, as Jackson hints above, Scarlet Witch—as well as her brother—could either be hero or villain in The Avengers: Age of Ultron, as she's gone both ways in the comics.
Still unconfirmed is who will play Quicksilver, the mutant who can move and think at superhuman speeds. However, Kick-Ass's Aaron Taylor-Johnson has entered into negotiations for the role, and has already shared some insight on how this lightning fast figure relates to Scarlet Witch, "His sister really is his guidance - emotionally she's the one who looks after him, and vice versa. He's very overprotective physically - he doesn't want anyone touching her."
But all this is presumably from Taylor-Johnson's interpretation of the comics, not the still mysterious Avengers: Age of Ultron script. Frustrating as it is, the hotly anticipated sequel won't hit theaters until May 1, 2015. According to Jackson, production could begin as early as March of 2014. So we have plenty of time to speculate on casting and character development until then.
Your Daily Blend of Entertainment News
Staff writer at CinemaBlend.
Your Daily Blend of Entertainment News
Thank you for signing up to CinemaBlend. You will receive a verification email shortly.
There was a problem. Please refresh the page and try again.