The Best James Bond Film Is Returning To Theaters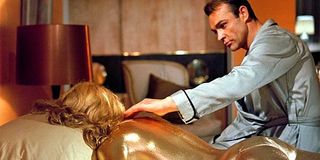 Whoa, not so fast, Never Say Never Again fans! When we say the "best" James Bond film, admittedly a subjective qualification, we mean the most iconic, prototypical example of a Bond film there ever could be in Goldfinger. And guess what? It's coming back to theaters remastered, restored and rekindled with Au-inspired awesomeness that will make the puissantly pleasing Pussy Galore seem all the more…galore-ious.
Yes, the one and only film pitting Sean Connery's template-setting original badass un-politically-correct Bond against "the Man with the Midas touch" is heading back to theaters and will be better than ever! Goldfinger will arrive in newly-restored ultra-high-definition (4K) form. It was announced on 007.com that MGM Studios, with distributor Park Circus, will debut the restored film at the 65th Berlin Film Festival in February in the Berlinale classics strand. Reportedly in attendance, will be Ken Adams, a two-time Oscar-winning set designer who created the sets for the classic film.
It's expected to roll out in February, though no specific dates were revealed.
So, what, may you ask, is the occasion? Well, the 1964 film has already reached its half-century benchmark on December 22, but so what? This is James Bond we're talking about, here. Being fashionably late to the celebration is almost required for a smooth-talking secret agent who has spent the past 50+ years sipping martinis while spreading freedom, as well as D.N.A. The film was actually restored 6 years ago for its Blu-ray release, but this latest release will utilize new technology that will bring the Cold War-era heist thriller in new ways.
It's the film that made a Fort Knox heist seem charming, single-handedly turned the concept of lasers (inspiring Dr. Evil's air-quotes) into a household name/critical fictional trope and would also make "skin suffocation" a thing. The action is undeniably timeless, with Connery's Bond firing on all charismatic cylinders, as he is pitted against the thieving gilded good-for-nothing, Auric Goldfinger played brilliantly by Gert Fröbe. And lest we forget, the man who was using hats for "Peaky Blinding" before it was cool in Goldfinger's vicious valet, Oddjob. Just about everything about this film, even the often tongue-in-cheek-cited Bond girl, Pussy Galore played by Honor Blackman seems to be a stereotypical example of a James Bond film. It's all for good reason, because Goldfinger, the third film in the series, really is the moment where the franchise's identity was indelibly defined.
For movie buffs who have never experienced the classic Bond on the big screen, this restored version represents a great opportunity and a cinematic rite of passage!
Your Daily Blend of Entertainment News
Thank you for signing up to CinemaBlend. You will receive a verification email shortly.
There was a problem. Please refresh the page and try again.