The Big Eyes Trailer Is Weird And Kind Of Creepy Because It's Tim Burton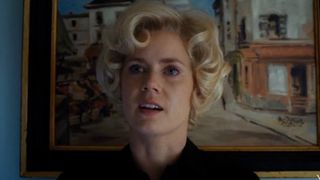 Filmmaker Tim Burton has become synonymous with quirky and off the wall stories, from Edward Scissorhands through to his recent remake of cult television series Dark Shadows. The director's latest, a biopic titled Big Eyes, looks a little more grounded in reality if this new trailer is to be believed, but still packs just enough of Burton's signature weirdness to make it instantly identifiable as the director's work.
Yahoo! Movies has the exclusive new trailer for the feature, which chronicles the life of painter Margaret Keane. If you don't regularly move in artistic circles, Keane is the artist responsible for those kitschy paintings of little kids with giant, saucer-like, anime-styled eyes. Amy Adams will play the painter in the biographical film, which focuses on her life in 1960s and marriage to Walter Keane (Christoph Waltz).
There's marital discord between the husband and wife, because Walter has co-opted Margaret's work and is claiming it as his own. This led to an irreparable rift in the marriage, and a court case that eventually wound up before Federal judges as Margaret Keane worked tirelessly to prove the paintings were her own, and not the work of her husband. Mrs. Keane actually challenged Walter to a painting competition in court to prove she was the creator of the artwork, a scene we hope is in Burton's new film. Mrs. Keane has clearly led an interesting life, and Big Eyes looks to do a good job of telling her story.
The trailer looks like Tim Burton's typical handiwork. It doesn't have the gauzy, over-the-top fantasy elements of movies like Charlie and the Chocolate Factory or Alice in Wonderland (nor does it feature Burton's regular collaborator Johnny Depp in a leading role), but it does remind me of Burton's slightly more visually grounded movies like Ed Wood.
Of course, the clip does have the requisite amount of Burton weirdness, including several instances where Adams' character wanders through the real world and see living women with some abnormally huge eyes. It's a freaky visual and reminds me a lot of Georges Franju's 1960 film Eyes Without a Face for some reason.
Amy Adams and Christoph Waltz will be joined by Jason Schwartzman, Krysten Ritter, and Terence Stamp in the film. We're not gonna lie – we nerded out at the idea of the man who tried to make Superman Lives directing a film wherein our current Lois Lane (Adams) acts alongside the original Zod (Terence Stamp). Hopefully that was all intentional.
Big Eyes is set to open nationwide on Christmas Day.
Your Daily Blend of Entertainment News
Thank you for signing up to CinemaBlend. You will receive a verification email shortly.
There was a problem. Please refresh the page and try again.