The Big Problem With Air France's Star Wars: The Force Awakens Promotion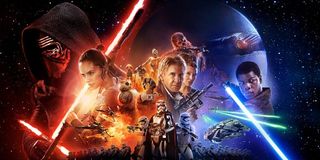 Disney has been keeping a tight lid on promotional material for Star Wars: The Force Awakens, but now that the release is only a month away, marketing is being kicked to the next level. The past couple months have seen new previews and merchandise being released, and it's only going to get more hectic over the next couple weeks with more TV spots and the press tour kicking off. Unfortunately for Air France, their contribution to the promotional festivities didn't receive the Disney/Lucasfilm seal of approval.
The airline announced on November 2 that they were featuring a "Flight & Cinema" promotion under the Star Wars logo. Costing $1,500-$2,000, this package not only provides a flight from San Francisco, Los Angeles or New York to Paris, France on December 15, but also a ticket to see Star Wars: The Force Awakens at EuropaCorp Cinemas on December 16, two days before the movies comes out in the United States. This sounds cool, right? Here's the problem: according to THR, no one from Air France actually got Disney or Lucasfilm's permission to do this.
Only two days after making the announcement, the company took down the Star Wars logo from their website, and all their tweets plugging the deal have been deleted. At the time of this writing, the promotion is still available online, but we suspect some folks from Disney's legal team might "request" they take it down completely. If they don't comply, what are the chances they'll be visited by some First Order stormtroopers?
Keep in mind that many companies are jumping in on the Star Wars frenzy, but most of them have official deals with Lucasfilm. So those commercials and advertisements we've seen popping up as of late have the much coveted endorsement of the franchise from a galaxy far, far away, but they needed to come up appropriate licenses and contracts first. Evidently Air France didn't bother to do the legwork up front, and it's come back to bite them.
Their hearts are in the right place, but when it comes to Disney, it's best to play it safe. They're more powerful than you can possibly imagine, and that's without even being struck down. However, if you were already planning to travel to Paris in mid-December to see the sights, you should definitely take the opportunity to see Star Wars: The Force Awakens. It's just going to cost more than this tie-in would have.
We would caution people living in the U.S. about flying to Europe just to see Star Wars: The Force Awakens a few days early, but if you're patient, you can catch the highly anticipated movie on December 18…or a couple days later, considering how massive ticket sales have been.
Connoisseur of Marvel, DC, Star Wars, John Wick, MonsterVerse and Doctor Who lore. He's aware he looks like Harry Potter and Clark Kent.
Your Daily Blend of Entertainment News
Thank you for signing up to CinemaBlend. You will receive a verification email shortly.
There was a problem. Please refresh the page and try again.