Want To See Star Wars: The Force Awakens Early? It's Going To Cost You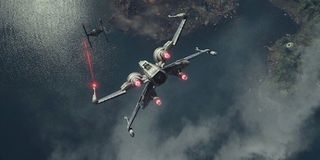 How desperate are you to be the first of your friends to see Star Wars: The Force Awakens? Are you willing to fly across oceans, leap time zones, and hop from country to country? Well, if you've got some extra cash just sitting around, burning a hole in your pocket, you're in luck.
You may or may not know that The Force Awakens opens in France on December 16, two full days before the December 18 stateside release (unless you count all of those preshows on December 17). Air France now plans to capitalize on all of the advance hype and they are offering package deals that include a flight, transportation to the theater, and a ticket to the movie. Don't worry, you won't have to learn French by then (I know some of you were in the process of ordering Rosetta Stone), as the screening will be in English.
Those of you who partake of this offer will take off from New York, Los Angeles, or San Francisco on December 15. You'll then flit on over to Europe, landing at Charles de Gaulle airport in Paris, where you'll be greeted by transportation ready to take you to the state-of-the-art EuropaCorp cinemas. Once there, you'll be conveyed to a galaxy far, far away courtesy of J.J. Abrams and the rest of the folks behind The Force Awakens.
That sounds like a pretty sweet deal, right? It is, especially as the ride and the ticket are "complimentary" when you purchase the flight, though that will cost you a pretty penny. Flying out of New York is the cheapest option, with seats starting at $538 at the moment, while those of you on the West Coast will have to fork out around $700 for the trip.
Then again, poking around for a few minutes, other flights from San Francisco to Paris during the same time frame (December 16-20) look like they'll run you in the neighborhood of $1200 or $1300 (though as I was typing that it jumped to $1600—I don't understand buying plane tickets). So maybe a flight, a ride, and a Star Wars ticket is totally worth it. Plus you get to go to Paris, which sounds like a hell of a bonus, and not a bad way to watch a movie.
As cool as that might be, it also sounds like a lot of effort (I'm super lazy), but if you haven't scored your tickets to opening day already, you may be out of luck, as The Force Awakens has been selling out screenings since tickets first became available.
For those of you who somehow don't know this, Star Wars: The Force Awakens picks up 30 years after Return of the Jedi and catches us up with Luke Skywalker, Princess Leia, Han Solo, and a ton of other returning characters. It will also introduce us to a new generation of characters led by the likes of Rey, Finn, Poe Dameron, and many more.
As you probably gathered if you've read this far, Star Wars: The Force Awakens opens on December 18, unless you fly to France.
Your Daily Blend of Entertainment News
Your Daily Blend of Entertainment News
Thank you for signing up to CinemaBlend. You will receive a verification email shortly.
There was a problem. Please refresh the page and try again.