Star Wars Shows Off C-3PO's Red Arm In New The Force Awakens Commercial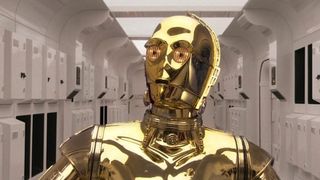 If you were wondering if Star Wars: The Force Awakens was going to continue the franchise trend of using every available opportunity for product tie-ins and merchandising (and if you didn't get that from the massive toy unboxing event a while back), this new Duracell commercial featuring some of your favorite Star Wars characters should make their intentions abundantly clear. But it does give us our first live action look at the new red arm that C-3PO is sporting this time around.
We've seen glimpses of the persnickety protocol droid's new appendage in art from the comics, but this commercial gives us our first real look at what it will look like, and it actually looks kind of good. Mismatched, obviously, but that's the point.
It's also no surprise that C-3PO has come to harm sometime in the 30 years that have elapsed between Return of the Jedi and The Force Awakens. Getting dismantled, shot up, and otherwise abused by the universe at large is kind of his jam. He has, after all, been torn asunder multiple times throughout the deep space saga, so the fact that he's had to replace and arm is no surprise. And given that he was a custom job to begin with, not to mention that he must be outdated technologically by this point, it also stands to reason that an identical spare might not have been readily available.
While this commercial doesn't actually feature footage from The Force Awakens, it's actually pretty rad, especially for a battery commercial—when was the last time anyone said that? Not only do you get to hang out with C-3PO and R2-D2, there are two miniature Jedi using their lightsabers to dispatch a crew of those new-jack stormtroopers and snow troopers. You've also got an invading squadron of Imperial walkers and TIE Fighters, and a few little tips of the cap to the original trilogy.
Over the next less than 50 days (we're LESS THAN 50 DAYS AWAY FROM STAR WARS!) we're going to be buried under a veritable avalanche of this kind of cross-promotional marketing. But what the hell, people are pretty pumped up for new Star Wars, especially because we know we're going to get the chance to see almost all of our old favorites back on the big screen, including Luke Skywalker, Princess Leia, Han Solo, and many more.
Star Wars: The Force Awakens opens everywhere on December 18, unless you want to fly to France.
Your Daily Blend of Entertainment News
Your Daily Blend of Entertainment News
Thank you for signing up to CinemaBlend. You will receive a verification email shortly.
There was a problem. Please refresh the page and try again.