The Biggest Winners And Losers Of The 2015 Summer Movie Season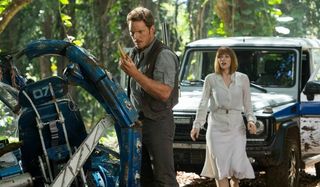 Take a long look outside your window. The seasons are changing, and signs are everywhere. Kids are boarding buses and heading back to school. Temperatures are dipping ever so slightly, suggesting autumn's arrival. And at the multiplexes, bombastic summer fare is giving away to intelligent, challenging awards fare aimed at mature audiences.
Before we fully turn the calendar's page to September, though, we want to digest everything that happened these past few months. There have been surprises (both good and bad), and lessons learned by the industry and its patrons. Who are summer's biggest Winners and Losers? Let's discuss in depth.
Winner: Universal Studios
Who expected this? Universal DOMINATED Summer 2015, releasing hit after hit and powering its way to an historic box office take (with half of the year still to come). The studio currently holds three of the top 5 slots on the year's top 10 list for domestic grosses. Universal mined nostalgia with Jurassic World; proved it has non-superhero franchise viability with Furious 7, Pitch Perfect 2 and Minions; and struck late-summer gold in an unexpected market with the music biopic Straight Outta Compton. It's doubtful that Universal will see a year like this anytime soon, but its decisions also proved that there won't be significant drop off because it's investing in the right talent at the right time.
Loser: Josh Trank
Josh Trank likely will want to forget as much of Summer 2015 as possible. Not only did his film, Fantastic Four, underperform ($52.7 million in domestic grosses at press time), his name was dragged through the mud through a series of headline-grabbing stories – some of which he helped trigger on social media – that tried to dissect where studio intervention might have led to his movie's demise. We may never fully understand what happened between Trank and Fox on Fantastic Four, or if a better cut of the movie exists somewhere on the studio's lot. But at the end of the day, the Chronicle director's reputation took a serious hit this summer, and we're curious to see how he eventually rebounds… or if.
Winner: DC's Cinematic Universe
It's strange to think of DC as a "Winner" this summer when they didn't release a film. But two things happened that greatly helped DC's case as it prepares for the release of Zack Snyder's Batman v Superman: Dawn of Justice in March. First, Marvel stayed even keel, delivering two good but short-of-spectacular features in Avengers: Age of Ultron and Ant-Man. Given a chance to create real separation from DC, Marvel stayed kind of where it was going into Summer 2015 – holding a sizable lead, but not giving up any real ground. Second, though, is that DC came out of San Diego Comic-Con with serious heat, surprising fans with fantastic trailers for both Dawn of Justice and David Ayer's Suicide Squad. I think a lot of people gained confidence in DC's output after SDCC, meaning next year has the potential to be mindblowing.
Loser: Warner Bros.
Outside of DC, Warner Bros. really whiffed. Listen, basically every studio not named Universal or Disney struggled this summer. Sony had a bumpy slate, and Fox probably wishes it had an X-Men movie on its 2015 calendar. But look at Warner's attempts to entertain this summer. We Are Your Friends, Entourage, The Gallows, Magic Mike XXL, Vacation, Hot Pursuit, The Man from U.N.C.L.E. and the dog movie Max all floundered while looking for big payoffs. Even The Rock's San Andreas struggled to stand apart from the busy summer slate. If not for Mad Max: Fury Road, WB's summer would be one that Amanda Waller would throw in a hole, then throw away the hole.
Winner: Amy Schumer
The stand-up comedian was everywhere this summer, and has been enjoying an incredible year. Her hit TV show returned to Comedy Central, and crushed with a series of remarkable skits. (The 12 Angry Men spoof is a work of genius.) She's besties with Jennifer Lawrence. She hosted the MTV Movie Awards in 2015, and toured as a stand-up all summer long. But her biggest win came at the multiplexes with Trainwreck, where her first starring role – in a movie she wrote – banked $105M domestically and an additional $23.8M overseas. The season lacked a real breakout comedy, as Spy and Ted 2 did OK but not great. But Trainwreck showed it had legs, and demonstrated Amy Schumer's drawing power in this industry.
Loser: Zac Efron
For every "Amy Schumer," there's a "Zac Efron," better explained as a star whose career is heading in a downward spiral thanks to a recent miss. It's not just that Efron released a movie that people overlooked. It's that We Are Your Friends was a passion project for the still-young actor, and it opened to historically bad figures. Efron has been fine when part of an ensemble (see: Neighbors). But Friends follows That Awkward Moment, The Lucky One and 17 Again as examples that prove Efron can't really carry a movie. Hence, next year's Neighbors 2: Sorority Rising.
Winner: Animated Films
Only five movies have crossed the $300 million mark at the box office this year, and two of them are animated features. Pixar's Inside Out earned fantastic reviews, even generating some early Best Picture buzz (which seems to happen every time Pixar cranks out a fresh masterpiece). And the movie quietly has become the studio's second-highest-grossing domestic earner, behind only Toy Story 3. Across town, Universal unleashed Minions on an eager global audience, and the animated comedy raced past the $1 billion mark globally. Billion! So much for needing Gru (Steve Carell) and his Despicable friends. Both movies will add more to their coffers when they reach home video later this year. Extremely impressive.
Loser: Happy Madison Productions
It was a rough summer for Adam Sandler, though not exactly a disaster. The comedian's production house, Happy Madison, backed a few critical bombs in Pixels and Paul Blart 2 -- though the latter admittedly was profitable. Off the screen, Sandler had to deal with a lingering controversy over casting on his original Netflix movie The Ridiculous Six… the first in what's supposed to be a multi-picture deal. While Sandler deflected most of the accusations while promoting Pixels, this is the wrong first step in the partnership.
Winner: Tom Cruise
Tom Cruise needed a hit, and he found one in Mission: Impossible – Rogue Nation. The July blockbuster has been Cruise's most lucrative hit since… well, since the last Mission: Impossible movie. Still, when a movie as phenomenal as Edge of Tomorrow needs to scratch and claw its way to $100M domestically, people began to question Cruise's star power. Rogue Nation reaffirmed that audiences are willing to spend on a Tom Cruise thrill ride – which explains why a sixth Mission: Impossible is on its way, sooner rather than later.
Loser: Cameron Crowe
Are we ready to say Aloha to Cameron Crowe's career? Possibly. The director's latest picture was his worst yet, without question, and even his staunchest defenders have to wonder if the once-formidable writer-director has anything of interest left to say. The numbers speak for themselves. Even with massive stars like Emma Stone and Bradley Cooper, Aloha only scared up $26 million in global ticket sales. Critics also savaged it, as the movie "enjoys" a 19% Fresh grade on RT. On top of that, the unfortunate Sony hack proved that Sony lost trust in Crowe during the process… and having seen Aloha, I'm not sure he'll ever earn that trust back from a more important demographic: the audience.
Sean O'Connell is a journalist and CinemaBlend's Managing Editor. He's frequently found on Twitter at @Sean_OConnell. ReelBlend cohost. A movie junkie who's Infatuated with comic-book films. Helped get the Snyder Cut released, then wrote a book about it.
Your Daily Blend of Entertainment News
Thank you for signing up to CinemaBlend. You will receive a verification email shortly.
There was a problem. Please refresh the page and try again.