Bill Murray Gets Drunk And Disorderly In St. Vincent Trailer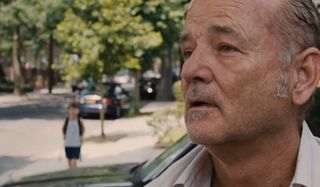 "A saint is a human being we celebrate for the sacrifices that they make, for their commitment to making the world a better place."
The latter half of this definition makes us wonder if Bill Murray shouldn't apply for sainthood. He's brought us the joys of Ghostbusters, Groundhog Day, Lost In Translation, What About Bob, and The Life Aquatic with Steve Zissou (to name a few). Now, the affable comedy icon who endlessly delights us by cameo-ing in people's real lives is poised to play against his effortless appeal in the upcoming St. Vincent.
In the Yahoo embed posed above, this trailer sets up the story of St. Vincent de Van Nuys (Bill Murray), a crass and often drunk curmudgeon who unexpectedly befriends the sweet but bullied boy next door. As you can see in this first promo, Vincent is a man with a bad attitude in the middle of a bad day when he meets young Oliver (newcomer Jaeden Lieberher). But Oliver lowers the guards of this grump, and soon they form a deranged but oddly tender bond. How else do you describe a friendship that includes snapping a bully's skateboard in two, taking a kid to your favorite dive bar, and teaching him the phrase "lady of the night?"
St. Vincent marks the directorial debut of Theodore Melfi, a long-time producer turned writer/director. Speaking well for his script is a cast that includes not only Bill Murray, but also boasts a near-unrecognizable Naomi Watts as Vincent's stripper buddy Daka, Chris O'Dowd as Oliver's earnest teacher Brother Geraghty, and Melissa McCarthy as Oliver's mother Maggie. Also set to appear in this promising comedy with a clear edge are Terrence Howard, Nate Corddry, and 30 Rock's Scott Adsit.
We first got word of this film back in the summer of 2012, when Murray signed on to star in St. Vincent. (Not to be confused with the Mickey Rourke vehicle of the same name.) The following year brought Chris O'Dowd and Melissa McCarthy into the fold. And Naomi Watts followed suit in short order.
Early on, it was rumored Jack Nicholson had been considered for the lead. But looking at the trailer up top, I think we should all count ourselves lucky St. Vincent's producers thought outside the box and picked Murray. This trailer promises trouble, subversion, and Murray on top of his game.
Look for St. Vincent in theaters on October 24th.
Your Daily Blend of Entertainment News
Staff writer at CinemaBlend.
Your Daily Blend of Entertainment News
Thank you for signing up to CinemaBlend. You will receive a verification email shortly.
There was a problem. Please refresh the page and try again.