Bill Paxton Will Try To Destroy Video Games In The Grand Theft Auto Movie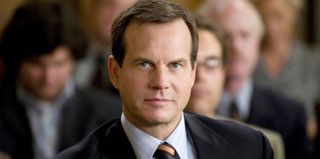 For a movie that involves a controversial video game, the upcoming Grand Theft Auto isn't going to be what you expect. There's probably not going to be a single car chase. Bill Paxton is now in talks to star opposite Daniel Radcliffe in the onscreen depiction of the legal battle over the popular game.
According to The Hollywood Reporter, Paxton is in line to play Jack Thompson. A Miami lawyer, Thompson came into the public eye by frequently blasting Grand Theft Auto, creator Rockstar Games, and video game violence in general. Before that, he was known for attacking media companies who promoted both hip hop and sex. In 2008, allegations of professional misconduct, including harassment, defamation, intimidation, and false statements led to Thompson being disbarred.
In Grand Theft Auto, former Harry Potter star Radcliffe will play Sam Houser, the president and co-founder of Rockstar Games. With explicit titles like GTA, the gritty western Red Dead Redemption, and the Max Payne series, Houser and his company soared to great heights in the early 2000s, but they also became the targets of various anti-video-game-violence activists, including Thompson.
Thompson seems like an ideal role for Paxton. He's good all around, but where he really shines is playing sleazy, smarmy, self-aggrandizing characters who maybe have a missing moral stripe somewhere, and from what there is to know about Thompson and the way he operated, this sounds like a match made in heaven.
The movie, from BBC Films, depicts the true-life legal battle between the two sides over violence in videogames. Most of Rockstar's games, but especially GTA, have come under fire for sex, drugs, and violence, most specifically violence towards women. This is definitely a timely topic as the debate rages on and doesn't appear to be going anywhere anytime soon as these games continue to be huge sellers. Just a few months back, Target decided to remove Grand Theft Auto 5 from 300 of the retail giant's Australian stores due to customer complaints and a petition that collected more than 43,000 signatures.
Owen Harris, who is best known for helming episodes of British shows like Black Mirror, Secret Diary of a Call Girl, and Misfits, will direct Grand Theft Auto. This marks his second feature, as he has the crime comedy Kill Your Friends with Ed Skrein, Nicholas Hoult, and James Corden coming out later this year. Written by James Wood, it's going to be interesting to see if this is played as a straight biographical legal drama, or if they're going to insert some sly comedy into the mix. The plot is described as a two-hander between Houser and Thompson, so if nothing else, it should be fun to watch Daniel Radcliffe and Bill Paxton go head to head for 90 minutes.
Your Daily Blend of Entertainment News
Thank you for signing up to CinemaBlend. You will receive a verification email shortly.
There was a problem. Please refresh the page and try again.