The Bizarre Way Protestors Will Smuggle The Interview Into North Korea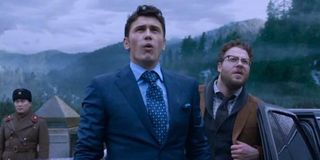 The Interview has been at the center of controversy since late last year when its scheduled theater run led to disturbing hacker demands threatening Sony bury the film or suffer 9/11-style attacks on any facility playing the film. Most of us watched while the situation played out, turn for turn, as it eventually sparked a nationwide conversation about freedom of speech. While we in America now have immediate access to The Interview through the hugely popular subscription-based streaming service Netflix, the same can't be said for folks in North Korea. That's why protestors have decided to smuggle the film into the East Asian country through a very bizarre means... by way of balloon.
Yes, you read that correctly. Protestors are reportedly setting the stage for a DVD air raid over North Korea in an attempt to unite the film with its people. Mass numbers of the Seth Rogen/James Franco spoof comedy, which spotlights a ridiculous, over-the-top rendition of the country's Supreme Leader Kim Jong-un, may soon find themselves dropping magically from the sky. According to THR, hydrogen balloons carrying DVDs of The Interview will be set at the Cinema for Peace Foundation's gala in Berlin as a symbolic action encouraging free speech. Details on the timing and location of the drop are not being revealed, so as to prevent endangering those inside the country, noted Jaka Bizilj, founder & chairman of the Cinema for Peace Foundation. He also had this to say about the project:
This is only the latest headline surrounding the ultra-controversial film, which follows Dave Skylark (Franco) and Aaron Rapaport (Rogen), two journalists who land an interview with North Korean dictator Kim Jong-un (Randall Park) only to have it highjacked by the CIA, turning their trip to Pyongyang into an assassination mission. The film has most recently brought former Chicago Bull and North Korea expert Dennis Rodman to comment. The very colorful character not only said the film wasn't funny but he went on to say he doesn't believe North Korea had anything to do with the now-infamous Sony hack attack.
The Cinema for Peace Foundation's organized event in Berlin will also feature Pussy Riot, who are set to perform Monday evening, with special guest and star of the film at the center of the discussion, James Franco. This is shaping up to be a truly bizarre event.
Your Daily Blend of Entertainment News