How Much Seth Rogen And James Franco Made For The Interview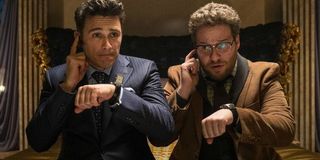 Chaos currently reigns over at Sony. Not only is the studio currently struggling in its battle against the likes of Disney and Paramount, but a rogue hacker continues to release intimate information regarding their films to the world. And because of this hacker, we now know that Seth Rogen was paid more to star in The Interview than James Franco.
According to Bloomberg, Seth Rogen took home $8.4 million plus back end profits for his work on The Interview while James Franco was only paid a measly $6.5 million. Will this come between the famous friends' adoring relationship? Probably not since Seth Rogen is also working as The Interview's producer, director and writer, so he probably deserves the extra wage.
But that's not the only bit of sensitive info that has been gathered and released regarding The Interview. We now also know that Kevin Federline, the former Mr. Britney Spears, was paid $5,000 for a cameo in the comedy, while the entire film cost a rather reasonable $44 million to make. They even saved $9 after a "table of weed, coke, pills and panties" only came in at $241 rather than the $250 that the producers had budgeted.
Previously it was alleged that The Interview itself was the reason why Sony had been hacked. The comedy revolves around James Franco and Seth Rogen's attempt to kill Kim Jong Un after the CIA learns that their characters are set to interview the North Korean dictator. Kim Jong Un reacted rather poorly to news of the film and vowed that its release would be akin to a declaration of war. Sony Pictures have since insisted that North Korea wasn't responsible for the hack though.
It's unclear what sort of impact this hack on Sony Pictures will have on the studio's output. Of course those employed by the studio can easily use the old adage of, "Any publicity is good publicity," in order to sleep at night. But there's no denying the fact that this consistent release of sensitive information, which shows no signs of abating, makes Sony Pictures look rudderless. Recently, the likes of Fury and Annie were leaked. There have been reports that scripts for un-aired pilots, and Social Security numbers have been released on to the internet.
The Interview's documents were posted on Pastebin, a file-sharing website, and the alleged hacker then insisted that even more Sony information will be released over the next few days and weeks. The mischievous scamp/scamps continue to raise hell. When will it stop?
Your Daily Blend of Entertainment News