Blockbuster Video Has Found A Second Wind In Mexico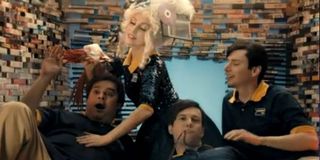 With the rise of Netflix and other streaming video services, Blockbuster Video has been in trouble for a long time. In the fall of 2013, news hit that the last of Blockbuster's chain stores would be closing up shop. But the obsolete rental house has found a new life and new home in Mexico.
Bloomberg reports that this month may have seen the last U.S. branch of Blockbuster close, but that the brand is hotly sought after south of the border. Yet this is not the Blockbuster you remember. Former Blockbuster owner Dish Network Corp sold the company's 300 Mexican chain stores to Grupo Elektra SAB for $31 million. Owned by billionaire Ricardo Salinas, this retail/financial company has given the chain a high-class makeover.
While Blockbuster's brand in the U.S. became sullied and deemed uncool after the rise of Netflix, there's no such stigma in Mexico, where DVD rentals are still doing decent business. With stores in affluent areas, Elektra has expanded Blockbuster's purview beyond the renting of movies and video games. The company is looking to use Blockbuster and its good reputation in the nation as a venue to sell other products, like electronics, Angry Birds plush toys and spicy tamarind candy.
Of course selling DVD-players might just seem like smart synergy, but Elektra has even bigger plans meant to appeal to the coveted and higher-class clientele the brand's name is attracting in Mexico. An expansion of services are being offered, like a return pick up service. For just 10 pesos, a Blockbuster courier will come by your home to pick up that copy of Grown Ups 2 you keep forgetting to drop off. Also in the works are two movie theaters, which will be called Blockbuster Cinema. Plus, Blockbuster will expand into online banking. Because why not?
Part of the reason Blockbuster is still worthwhile in Mexico is that the internet is not nearly as omnipresent there as it is in the U.S. Only 31% of households in the country had internet access as of last year, so streaming video isn't an immediate threat to Blockbuster's business model. Plus, DVD kiosks like Red Box aren't available in Mexico. This means the only competition Blockbuster faces in the home-viewing market is pirated DVDs. Readily available through street vendors, bootleg DVDs make up 9 out of 10 movies purchased in the country. However, it sounds like part of Blockbuster's appeal is the status of not having a low-quality pirated version of a movie, but instead a high-quality DVD with special features and the possibility of at-home pick-up for just a few pesos more.
With this knowledge, we all know where the lost souls of Blockbuster can now flock.
Staff writer at CinemaBlend.
Your Daily Blend of Entertainment News
Thank you for signing up to CinemaBlend. You will receive a verification email shortly.
There was a problem. Please refresh the page and try again.