The Blunt Reason Dredd 2 Isn't Happening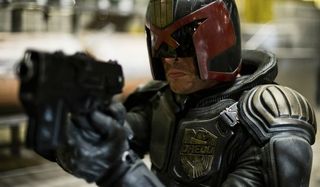 Stop trying to make Dredd 2 happen. It's not going to happen. That's basically the latest word to come from the first film's screenwriter, Alex Garland. Fans have been vocal about their desire for a sequel, after they saw Karl Urban shoot up the place in Pete Travis' 2012 film. Like an Iron Man 4 or another solo Hulk movie, we'll believe it when we see it, but Garland doesn't believe we'll see anything for quite some time.
In an interview with Collider for his directorial debut, Ex Machina, Garland was pretty blunt in suggesting fans scratch their plans to Kickstart this into ignition. Though he found the film to be "creatively satisfying," and he hoped the same for his colleagues, he referred to the story of Dredd as "that of a failed movie. Both times, for fuck's sake." Sylvester Stallone starred in the title role of the 1995 film adaptation, while Urban headlined the more recent installment. Neither really stuck it to the box office enough to earn a sequel. As such, campaigning from fans won't do well in swaying Hollywood execs to bestow the green light on a sequel…at least, not anytime soon. Garland pleads,
Perhaps it would help matters for Alex Garland to have a strong online presence, through social media or what have you, but he doesn't even have that ammunition in his arsenal. However, he does appreciate the franchise's dedicated fan base, which he referred to as "touching." His final word, though, is that he doesn't believe what these moviegoers wants — i.e. a Dredd 2 with Garland and the cast and crew — will happen in the near future, if at all.
It's quite possible that the franchise is just in the wrong place at the wrong time. Dredd's subject matter imagines a futuristic and violent world where police forces act as judge, jury and executioner. Given the current, unfortunate, racially-charged skirmishes between civilians and police, such a story might not resonate with mainstream audiences during this heated time period.
While a cinematic sequel doesn't seem likely, we did get a continuation of the 2012 film in some form. The Dredd: Underbelly comic was released in the US from British publisher 2000AD. In addition, Dredd producer Adi Shankar also backed an online animated series that further expanded the world of Mega-City One.
Your Daily Blend of Entertainment News
Thank you for signing up to CinemaBlend. You will receive a verification email shortly.
There was a problem. Please refresh the page and try again.