Iron Man 4: Why It Won't Happen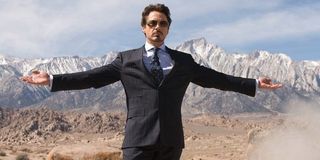 Iron Man 4 has to be a no-brainer … right?
The third installment has already made more then $300 million worldwide, and it's just now opening in the States. Reports have said that the sequel is tracking ahead of Joss Whedon's The Avengers, and that movie was the highest-grossing film of 2012. Marvel has a crimson-and-gold cash cow grazing in its fields. There's no way that they'd willingly kill it off by ending the Iron Man franchise, especially while Robert Downey Jr. is still willing to get back into the suit for further adventures. Iron Man 4 is a lock.
Except Iron Man 4 isn't.
While promoting the film this past week, co-stars Don Cheadle and Gwyneth Paltrow each suggested that this could be the end of standalone Iron Man movies. Cheadle went one step further, discussing his hopes for a War Machine spinoff (news that I followed up with pipe dreams for a West Coast Avengers movie … fingers crossed.)
Rhodes and Pepper aren't pivotal, though. It all comes down to Downey, and he is playing coy. In a GQ article, the actor (who is nearing 50) hints at a time in the near future when he might have to put down the metallic suit. Recently on The Daily Show, Downey admitted that he was "renegotiating" his contract with Marvel (a deal that Variety says expires after Iron Man 3). That probably means he's angling for a massive payday for The Avengers 2, in which case that could be his final turn in the suit.
What does that mean for Iron Man 4? I think it means Iron Man 4 won't happen. And to explain why, I'm going to have to touch on some major plot points from Iron Man 3 so...
STOP READING IF YOU HAVEN'T SEEN IRON MAN 3!
Still with me?
The final minutes of the last Iron Man provide serious closure for Downey's arc as Tony Stark. He defeats his most formidable foe yet in Aldrich Killian and, by extension, The Mandarin. He initiates a "clean sweep" protocol that destroys all of his existing armors (albeit the sequel teaches us that Stark can rebuild any time he wants). And – here's the big one – he undergoes surgery to have the shrapnel removed from his chest, removing his heart from danger.
That is the core of Tony Stark. The shrapnel is what ties him to the suit, and now it's no longer a factor. He's free to live a hero-free life with Pepper, handing the suit to Rhodes and entrusting the planet-saving missions to his pals in The Avengers.
Traditionally, franchises aim for trilogies, concluding story arcs with firm resolutions. Marvel's operating on a different playing field, breaking new ground as they interchange heroes for standalone films and ensemble Avengers movies. But Iron Man had a head start on his colleagues, so seeing him conclude while Thor (Chris Hemsworth) and Captain America (Chris Evans) extend their own trilogies makes more sense now than it did before seeing Iron Man 3.
From another angle, eventually Marvel is going to have so many heroes needing origin stories and sequels that Tony Stark's Iron Man 4 could get pushed to the backburner simply because the studio's production slate is too full. There are only so many movies Marvel can release in a calendar year. Already, we have Marvel movies carrying us to 2015, with Thor: The Dark World, Captain America: The Winter Soldier and Guardians of the Galaxy leading into The Avengers 2. The studio has also leaked plans for both Ant-Man and Doctor Strange movies in their Phase Three plans. Black Panther could also be a factor, while Thor and Cap likely will get third chapters in their respective franchises.
Where does Iron Man 4 fit into these sprawling plans?
My conclusion, at the moment, is that Iron Man 4 doesn't. Iron Man will appear in Avengers sequels, and be on call for cameos in other superhero features. Nick Fury (Samuel L. Jackson) and Black Widow (Scarlett Johansson) are both appearing in Captain America: The Winter Soldier in supporting roles - I could see Iron Man appearing in an Ant-Man movie, or even Doctor Strange.
But do I think Robert Downey Jr. will do a standalone Iron Man 4? No, I don't. Not any more.
UPDATE! Since we first published this article rumors have surfaced claiming that the Mandarin One-Shot released by Marvel early this year might be a lead in to Iron Man 4. So far, though, there's been no confirmation and though Marvel has talked a lot about upcoming superhero projects there's still been no mention of another solo-effort featuring Tony Stark.
Your Daily Blend of Entertainment News
Sean O'Connell is a journalist and CinemaBlend's Managing Editor. He's frequently found on Twitter at @Sean_OConnell. ReelBlend cohost. A movie junkie who's Infatuated with comic-book films. Helped get the Snyder Cut released, then wrote a book about it.
Your Daily Blend of Entertainment News
Thank you for signing up to CinemaBlend. You will receive a verification email shortly.
There was a problem. Please refresh the page and try again.