Boardwalk Empire May Get A Movie, Get The Details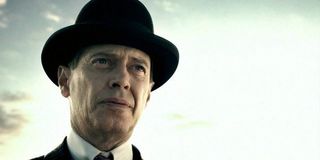 Boardwalk Empire has only just come to an end on HBO, but there are already rumors that it might make a return -- this time on the big screen. And these rumors have been started by none other than Mark Wahlberg, who worked on the series as a producer.
Mark Wahlberg made these remarks while out promoting his new film, a remake of the 1974 classic The Gambler, and during a discussion with the radio show Ralphie Tonight he insisted that he now plans to try and turn Boardwalk Empire into a movie. In fact he revealed that he wants to follow the same path as the upcoming Entourage film for the Prohibition drama. And he has even picked out the perfect director for his proposed Boardwalk Empire film: a certain Martin Scorsese.
Scorsese previously directed Boardwalk Empire's pilot episode back when it first hit the small screen in 2010. However even before he oversaw the filming of the opening installment of Boardwalk Empire, he helped to establish the look of the show during discussions with its creator, Terence Winter. And while he didn't direct any more episodes of Boardwalk Empire, Martin Scorsese was still listed as one of its executive producers. Martin Scorsese and Terence Winter also have previous collaborations in the feature film field, too. Winter wrote the script for the legendary director's most recent film, The Wolf Of Wall Street, and the critical acclaim that the film received showed that they make a rather good team.
Now, I should point out to all of you Boardwalk Empire novices that this article is about to venture into SPOILER territory. And this isn't just a teeny tiny spoiler. This is the sort of spoiler that will immediately ruin Boardwalk Empire for you and would even probably convince you not to see a potential big-screen adaptation. So proceed with caution.
Are they gone? Good. So those of you who are still here will be very much aware that Boardwalk Empire's main character, Nucky Thompson, who was played by Steve Buscemi throughout the show's five season run, perished in the last episode. But after being reminded of this by Ralphie Aversa, Mark Wahlberg insisted, "We can always go back."
Ah, the prequel route. That's because British actor Marc Pickering did a sublime job playing the young Nucky Thompson during the show's final season. These episodes showcased the character's rise to prominence in Atlantic City during the late 1800s, alongside Nucky's struggles with some of New York's most prominent gangsters in 1932. Marc Pickering seamlessly adopted the same unique traits and mannerisms as Buscemi while portraying Nucky, and even though I have to admit that the addition of this back-story seemed a little unnecessary, he still excelled.
But would a Boardwalk Empire movie work? I think it could. The prohibition era is rich terrain for movies, as is the gangster genre. And while Nucky Thompson was actually a bit of a boring lead character -- which was one of the reasons Boardwalk Empire never truly blossomed into one of the all-time great television shows, in my opinion -- a film populated with the likes of Arnold Rothstein, Lucky Luciano, Al Capone and Bugsy Siegel could prosper. Especially if both Terence Winter and Martin Scorsese are involved. Because, just in case you don't know, the latter is kind of a big deal.
Your Daily Blend of Entertainment News