Sexiest Man Alive: 10 Tom Hiddleston Reasons People Magazine Got It Wrong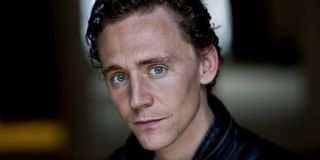 I'll admit People's Sexiest Man Alive is not an honor I typically get too caught up in. Its winner is usually less a symbol of worldwide sex appeal and more a sign of a leading man's total domination of the pop culture scene. For instance, Brad Pitt won after proving himself in the three successive hits, Interview with the Vampire, Legends of the Fall and Se7en. Johnny Depp won in 2003, the same year he introduced Jack Sparrow to the world with Pirates of the Caribbean: Curse of the Black Pearl. And Channing Tatum won after becoming the biggest box office sensation of 2012 between The Vow, 21 Jump Street, and Magic Mike. Oh, also all of these men were pretty much unarguably sexy during the time of these appointments to the SMA honor.
But this year, People broke with tradition and picked not a major movie star, but a musician and reality-TV star. THR reports Adam Levine, lead singer of Maroon 5 and judge on The Voice, will be given the title of People's Sexiest Man Alive this year, and frankly I'm flabbergasted. It's like People magazine forgot their own criteria and just went with that mouthy guy on TV.
Admittedly, I find Levine more douchey than sexy, but my biggest problem with this pick is that it ignores the pop culture sensation that is Tom Hiddleston. Between his time on Thor, The Avengers and Thor: The Dark World, he's a man whose made movie marketing and mass seduction an art form that has inspired a fierce fandom who gladly bends to his will. So, I'm laying out for People Magazine all the things they've apparently missed with video evidence of how they got this one wrong.
He created a villain we want to be conquered by.
It's funny. There's nothing overtly sexual about the character of Loki. And yet, the porcelain pallor, black shock of hair and wicked grin of Marvel's best movie villain inspired nothing less than Beatles-level fandemonium when Hiddleston turned up in character at Comic Con last spring. The crowd squealed, chanted his name, and followed his every command. He is burdened with glorious purpose, and we are his mewling quims.
He dances for us.
Don't talk about "Moves Like Jagger" to me until you've witnessed the glory of Hiddleston-style. First, he feels the music, and then he unleashes his dance moves in a flurry of motion a sharp suit can't contain and a stylish chair can't stop. You want to talk about international appeal? This viral clip is from Korea.
He serenaded us with "Stand by Me."
Yeah yeah, Levine's a singer, but Hiddleston is not. He's just a very handsome star with a song in his heart, who gamely played along when asked to karaoke in a car. If karaoke is not the language of love, I don't know anything anymore
He seduced us with Shakespeare.
Here Hiddleston reads William Shakespeare's Sonnet 18 ('Shall I compare thee to a summer's day'), and those of us who crushed on Joseph Fiennes circa Shakespeare in Love get dizzy. But that's not all. This was a part of a project called The Love Book app, which donated 10% of its sales to the charity Save the Children. WARNING: This video is NSFW, mainly because the sounds it might have you make will draw the attention of your office mates.
He spoke sex to us with poetry.
Reading E.E. Cummings's poem "May I Feel," Hiddleston proves he can make us swoon with just his voice. Don't believe me? The man has a tumblr dedicated to his voice alone.
He's great with kids.
You know those aggravating AT&T commercials where a man in a suit moderates a dumb focus group with a batch of hyper-active and sickeningly cute children? Yeah, they are the worst. Leave it to Loki to take those chatty brats down a peg.
Also, he's a Unicef supporter.
Have you heard his impressions?
Frankly, it would be insane if you haven't. Youtube is rich with video of them. Alan Rickman. Owen Wilson. Chris Evans. Orson Welles. You name it, he'll nail it. Hell, his reputation for dead-on mimickry even inspired one of Thor: The Dark World's best sequences.
Personally, I cannot wait to see him show us his version of Tilda Swinton and Jim Jarmusch when Only Lovers Left Alive hits next year.
He's going full-on vamp for us.
Speaking of Only Lovers Left Alive, can we talk about how Hiddleston takes his sex appeal to a surreal new level as a brooding vampire who naps nude in glorious angles with Tilda Swinton? I could watch these two hang on each other and sulk forever.
He even made goofing around with Muppets sexy.
As smart as Sesame Street has been with their parodies, I'm completely positive they knew what they were doing with this Cookie Monster/Hiddleston bit. Oh yes, they knew not only what kind of effect having Hiddleston talk about "delayed gratification" would have on us, but also realized the cleverness of having a star as crush-inducing as him talk about teasing out anticipation. I'm with Cookie Monster on this: have pity!
He'd be great at a slumber party.
It's like MTV's Josh Horowitz was reading the dream journals of women worldwide when he asked Hiddleston to promote Thor 2 by having a slumber party interview. In the clip above, the two wear pajamas (Avengers-themed of course), play True or Dare, and F*ck Marry Kill, and of course they pillow fight. Also, more dancing. It's magic, People. MAGIC .
Your Daily Blend of Entertainment News
Staff writer at CinemaBlend.