Bridesmaids' Wendi McLendon-Covey Starring In A White Trash Christmas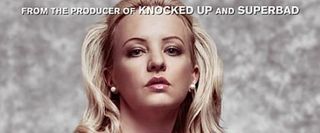 Bridesmaids actress Wendi McLendon-Covey is so funny that she manages to get me to pay attention to TV ads for Hillshire Farms Sausage, in which she vamps around a kitchen pretending to be the alter-ego of some bored housewife preparing dinner for her kids. Yes, that's how funny she is, and even though her character kind of vanished at the end of Bridesmaids, she's taking that movie's enormous momentum and running with it right toward her own star vehicle.
Variety reports that McLendon-Covey will star in A White Trash Christmas, an indie take on the classic Dickens story "A Christmas Carol" that will star the actress as an alcoholic white-trash mother who is shown the way to a better life by three spirits who visit her on Christmas Eve. Ron Carlson co-wrote the script with Terri Hauffman and will also direct; there are a number of Ron Carlsons on IMDB so it's hard to figure his background, but suffice it to say he's a relatively unknown director.
Making fun of poor white people can go in two distinctly different directions-- the My Name Is Earl or the Tucker & Dale vs. Evil route of success, or the Joe Dirt route to disaster. It's hard to know how anything will turn out ahead of time, and Lord know we're not exactly clamoring for another "Christmas Carol" parody, but I put my faith in McLendon-Covey, who has been acting on TV and movies since Reno! 911 first went on the air in 2003 and is long overdue for a big chance at stardom-- and one that doesn't involve shilling for sausage.
Staff Writer at CinemaBlend
Your Daily Blend of Entertainment News
Thank you for signing up to CinemaBlend. You will receive a verification email shortly.
There was a problem. Please refresh the page and try again.