Brittany Murphy Getting A Biopic And Bizarre Promotion For A Documentary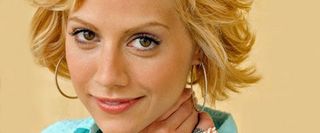 The death of bubbly comedian Brittany Murphy at 32 was puzzling and deeply tragic. The actress, who may be best remembered from her role as burnout turned knockout in Clueless, died under mysterious circumstances in 2009, and gossip and strange rumors persisted for months and years after. Now these rumors and a whole host of new ones will be the subject of at least one film about Murphy and her death.
Film School Rejects received a bizarre press report that pronounces "Brittany Murphy's Mysterious Death Chronicled in Controversial New Documentary; Biopic on the 8 Mile Star to Follow in 2014." Why a documentary and a biopic you might wonder? Well, that might be because the somehow already controversial doc isn't so much about Murphy as it is about some sort of government conspiracy. Directed by Asif Akbar, the documentary is titled Top Priority: The Terror Within appears to be an adaptation of the nonfiction book Unsafe At Any Altitude, which explores the problems in Transportation Security Administration's approach to aviation security. In particular, the film will focus on national security whistleblower Julia Davis, who the press release declares "was falsely declared a 'Domestic Terrorist' and subjected to retaliation of unprecedented proportions by the Department of Homeland Security."
What, you might ask, does this have to do with the Hollywood star? Well, the press release notes Murphy was a friend of Davis' and a witness in the former Border Protection Agent's litigation against the Department of Homeland Security. From here, the press release and presumably the doc, declare that Murphy and her husband Simon Monjack, who died a few months after Murphy, were targeted by the Department of Homeland Securities and Immigration and Customs Enforcement, and maybe murdered? A trailer for this eyebrow-raising doc can be seen below:
While the filmmakers clearly missed their hopes to debut the film last summer, Top Priority: The Terror Within will premiere at the American Film Market next week. But that's not all! Davis and Akbar are also in the works on a biopic of Murphy's life, titled simply Britt. The late actress's father Angelo Bertolotti, who also appears in Top Priority, will be the film's screenwriter and producer, making his debut in both fields. It seems Davis, who has helmed several episodes of the military history show Medal of Honor, will direct this one. The search is on to find a suitable ingénue to portray Murphy, and if she's found soon, the filmmakers hope Britt will debut in 2014.
Staff writer at CinemaBlend.
Your Daily Blend of Entertainment News
Thank you for signing up to CinemaBlend. You will receive a verification email shortly.
There was a problem. Please refresh the page and try again.