CB Recommends: Movies In Theaters For The May 20th Weekend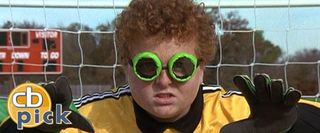 This week's CB Recommends will not peer pressure you into drinking rum, buying a parrot or avoiding fruits long enough to get scurvy. It will not support continuing franchises for the hell of it, regardless of how good Johnny Depp may be at playing its lead character. It won't do any of these things because, unlike the rest of Western civilization, CB Recommends does not have a soft spot for Pirates Of The Caribbean. Admittedly, it would have been convenient to support the fourth installment of the franchise considering this also happens to be the fourth ever CB Recommends article, but credibility cannot be sacrificed for cheeky tie-in references. Instead, the writer of this column will attempt to find Apollo Creed and punch him in the face so hard that he dies in celebration of this momentous occasion.
Beyond Pirates Of The Caribbean, it's a pretty quiet week at the box office, but there are several hidden gems out there worth supporting. As always, CB Recommends will let you know which of those are worth seeing, and by their absence, let you know which of them are a complete waste of time. Beyond that, the column will also highlight a solid DVD choice and once again answer a reader email. Ready? Then without further ado, here's what Cinema Blend recommends for the week of May 20th, 2011…
If you want to see the best movie, CB recommends...
… turning back to an old favorite with Woody Allen's Midnight In Paris. The storied director's latest comedy hasn't expanded to many screens yet, but the early buzz is excellent. The story follows Woody Allen stand-in Owen Wilson as he frets about his overbearing fiancé during the day and travels to 1920s Paris in the evening. F. Scott Fitzgerald, Ernest Hemingway and Gertrude Stein are there of course, as they would be in any struggling writer's fantasy, but it's a fashion designer played by Marion Cotillard that takes up most of Wilson's attention. Together they carouse and embrace the city while learning a thing or two about finding hope in reality. Cinema Blend's Managing Editor Katey Rich gave Midnight In Paris four stars, and while it might not be on par with Allen's classics like Annie Hall and Manhattan, it's still more than worth your time.
If you saw Bridesmaids and loved it, CB recommends...
… seeing it again. The female-fronted comedy may be a bit long-winded and slightly less funny than some of the other Judd Apatow-produced comedies, but it's the type of quality film worth supporting for a litany of reasons. I saw The Hangover in theaters four times. I did so because it was both hilarious and because I wanted to send a message to studios that great R-rated comedies could make money at the box office. You may not share my philosophical urge to spend money on principal, but even if you don't, Bridesmaids is a damn good time. Go see it with your friends or your husband or your wife or your sister. Cinema Blend's Head Honcho Josh Tyler had a great time, and you will too, regardless of whether it's your first or second time watching.
If you're looking for a great indie, CB recommends...
… appreciating another side of Will Ferrell in Everything Must Go. The former Saturday Night Live star may have been typecast as the over the top man child (for good reason), but his second foray into the serious is touching and worth your time. His first, Winter Passing, saw him play a goofy, yet wounded wannabe Christian musician, but as the fourth lead, Ferrell lacked the requisite screen time to leave a lasting impression. That's definitely not the case here. His listless, yet good-hearted alcoholic monopolizes the story arc opposite child actor Christopher Jordan Wallace, and the two forge a shaky, yet endearing bond. Cinema Blend's Eric Eisenberg was impressed enough to give Everything Must Go four stars. He's not the only one. Early reviews have been great, and with Ferrell's star power, people will show up. You might as well be one of the first.
If you'd rather sit on the couch, CB recommends...
… whooping asses with The Mechanic. Sure, the remake may not have lived up to its lofty namesake, but it was either this or Bieber fever. Let it be known that CB Recommends prefers vicious death scenes to teen idols. Plus, rising star Ben Foster and action stalwart Jason Statham have enough chemistry and technical precision to make the film an acceptable enough way to spend a lazy afternoon. Probably best to rent or watch on DVR rather than purchase but still a whole lot better than never saying never.
Order The Mechanic right now with from Amazon here (opens in new tab)
CB Recommends answers your email.
That's easy. The kids in The Big Green. They've got that one very good immigrant who Steve Guttenberg frantically tracks down, and that chick who could conceivably play sparing reserve minutes on a mediocre U-12 traveling team. Everyone else is garbage. Even their mascot sucks. Their goalie spends long stretches during the game scaring himself with elaborate biker nightmares, and their secret weapon is three feet tall and named Newt. Terrible. I honestly think the US National Team could score 250 goals in a 90 minute game against them. That being said, I owned that film on VHS back in the day, and if it ever comes out on Blu-Ray, I'm there.
Order The Big Green right now with from Amazon here (opens in new tab)
.
Want even more viewing advice? Check out our CB Recommends archive.
Enthusiastic about Clue, case-of-the-week mysteries, the NBA and cookies at Disney World. Less enthusiastic about the pricing structure of cable, loud noises and Tuesdays.
Your Daily Blend of Entertainment News
Thank you for signing up to CinemaBlend. You will receive a verification email shortly.
There was a problem. Please refresh the page and try again.