Cameron Crowe Has Big Ideas For Say Anything 2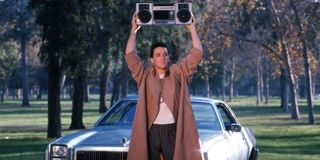 Cameron Crowe is in need of a hit. His latest effort, Aloha, has been savaged by critics, while audiences have been staying away from it. In fact, Aloha has proved to be such an disaster that moviegoers are wondering if Cameron Crowe has lost his edge. But it sounds as if the Almost Famous and Jerry Maguire filmmaker has devised a possible antidote to his current problem: he has ideas for a sequel to Say Anything, one of his most endearing films. And he's got huge plans for the potential follow-up.
Cameron Crowe made this admission to Film School Rejects, where he admitted that he has recently been spending a lot of time thinking about the character of Lloyd Dobler (who was played oh-so expertly by John Cusack back in 1989). Crowe has previously insisted that he would be interested in making a sequel, and now it's clear that he's already outlined his ideas for the story. The director said,
Sounds like classic Cameron Crowe fodder. The director admitted that he wasn't sure if it would be a direct sequel to Say Anything, however, it would certainly be a "spiritual follow up." One of the main reasons that Crowe is interested in writing Say Anything 2 is that he really, really loves writing for John Cusack. And even though he's only mentioned the potential sequel to the actor once, it seems like he would certainly be interested.
There would be plenty of moviegoers who would be interested in catching up with Cusack's eternal optimist Lloyd Dobler and Ione Skye's Diane Court. Heart-warming, funny, sweet and a quintessential generation X film, Say Anything has aged gracefully and remains just as potent and impressive as it did 26-years ago. The film revolves around the relationship between Lloyd Dobler, who is an average student, and Court, the school's valedictorian, as they look to start a relationship in Seattle, Washington, immediately after graduating from high school.
Cameron Crowe's Aloha has been beset with problems over the last few months. At first it became embroiled in the Sony hacking problems after Amy Pascal privately stated that it never worked, while Hawaiians criticized the film for not featuring enough locals. Reviews for Aloha have also been scathing, and it's not expected to make much more than its $37 million budget. Coming off the back of Elizabethtown and We Bought A Zoo, both of which were poorly received too, it had been suggested that Cameron Crowe had reached an impasse. But a Say Anything sequel would certainly help to reinvigorate Cameron Crowe's career. Now all Crowe has to do is get John Cusack to sign up.
Your Daily Blend of Entertainment News
Thank you for signing up to CinemaBlend. You will receive a verification email shortly.
There was a problem. Please refresh the page and try again.