Cameron Crowe's Next Movie Bumped Out Of Christmas To Next Summer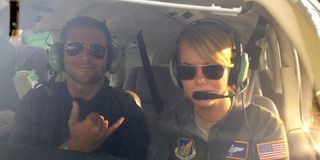 Writer-director Cameron Crowe's next project may not have a name yet, but The Untitled Cameron Crowe Project is gaining some curious buzz thanks to a big shift in its release date.
Coming Soon reports The Untitled Cameron Crowe Project was originally being eyed for a Christmas 2014 release, but that Columbia Pictures and Regency Enterprises have backed out of yuletide timings in favor of a potentially more eye-catching opening in the late spring/early summer of 2015. To that end, The Untitled Cameron Crowe Project will now open on May 29, 2015.
Had Cameron's unnamed rom-com hit this December, it would have faced off against stiff competition in the forms of likely award season frontrunners like Paul Thomas Anderson's Inherent Vice; flashy epics like Ridley Scott's Exodus: Gods and Kings or Peter Jackson's The Hobbit: The Battle of Five Armies; and family fare like Annie, and Night of the Museum: Secret of the Tomb.
In its new spot at the end of May, The Untitled Cameron Crowe Project will compete against the latest installment of the popular haunted horror saga Insidious Chapter 3 and the animated action movie Monster Trucks. Here it seems far more likely The Untitled Cameron Crowe Project could stand out, being a potentially excellent date option amid terror and kiddie pics.
Fleeing a Christmastime spot is often a signal that a film isn't strong enough to pull in award season attention. But rom-coms are rarely noticed by the Oscars anyhow, so this could well be a case where distributors figured Cameron Crowe's distinctive brand of feel-good love story would play best after the intensity of award season has come and gone. Speaking about the shift, Worldwide Marketing and Distribution for Sony Pictures chairman Jeff Blake said, "Once we saw the film, we knew that it would make a perfect summer release. The movie is Cameron at his best."
The Untitled Cameron Crowe Project will star Bradley Cooper as Brian Gilcrest, a lauded military contractor who travels to the US Space program in Honolulu, Hawaii to revisit the site of his greatest professional triumph. While there, he reunites with an old flame (Rachel McAdams), but unexpectedly begins to develop feelings for the tenacious Air Force soldier (Emma Stone) assigned to work with him. Co-starring are Danny McBride, Alec Baldwin, John Krasinski, Jay Baruchel and Bill Murray. Essentially, the cast on its own offers plenty of reasons to be pumped about The Untitled Cameron Crowe Project. However, Cameron himself is a bit of a wild card.
Of course, in 1997 Cameron Crowe captured the hearts of America with Jerry Maguire, a romance that was a huge hit at the box office and earned five Oscar nominations, as well as one win for Cuba Gooding Jr. Then in 2001, Crowe won an Oscar of his own for the screenplay to the four-time nominated Almost Famous, which surprisingly flopped at the box office pulling in just $47 million worldwide - coming well short of its $60 mil budget. Next came a pair of critically loathed dramas, Vanilla Sky and Elizabethtown. Lastly, 2011 brought We Bought A Zoo, a sentimental family-drama that brought in $120 mil worldwide and won mostly good--not great--reviews from critics, earning praise like "likeable," "pleasant," and "a sweet-natured slog."
Basically, it'll be interesting to see where The Untitled Cameron Crowe Project will fit into his mixed bag filmography.
Your Daily Blend of Entertainment News
Staff writer at CinemaBlend.