Insidious Chapter 3 Confirmed, But Without James Wan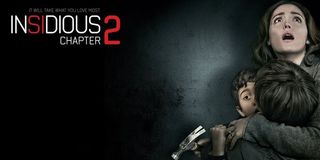 UPDATE: FilmDistrict has announced that they are indeed moving forward on Insidious Chapter 3, with writer Leigh Whannell and producer Jason Blum both set to return (tellingly, director James Wan is not mentioned). You can read our original article, including Blum's comments on wanting to return for a third chapter and speculation about Wan wanting to leave horror behind, below. At the bottom of the post is the press release announcing the third film.
As the founder of Blumhouse Productions, Jason Blum has become a kind of contemporary Roger Corman, quickly creating a string of low-budget horror movies that have proved box office smashes, as well as influential within the genre. The man has had a hand in making such hits as Sinister, The Purge, Insidious and the Paranormal Activity film series. With the release of Insidious: Chapter 2, I had the good fortune to interview Blum, and after a fascinating conversation about his plans for elevating the oft-sneered at genre, we talked more specifically about the furious of the Insidious franchise.
Blum's enthusiasm for a third venture into The Further is clear. But will director James Wan and screenwriter Leigh Whannell be as excited to return to this property? Blum's comment implies there was no point in talking about a follow-up until Chapter 2 was proven a hit or miss. Well, while this sequel/prequel hybrid was less beloved by critics than the original, it tore up the box office this weekend. The $5 million dollar movie proved a winner, topping the box office with an astounding $41 million, beating the original's opening by $28 million. But will this be enough to draw Wan back once Fast & Furious 7 wraps?
Over at Screen Rant, Perri Nemiroff drew our attention to a worrisome interview Wan gave in July to Moviefone, where he declared he's done with horror:
Expanding on this shocking statement, Wan went on, ""I spent the last ten years of my life doing this. It's time for a change, for goodness sake!...Hollywood puts you in a box. If you do a successful comedy, then you're known as The Comedy Guy. If you do a successful car chase movie, then you become that guy. So I'm a student of cinema, so I just want to make sure I get the chance to make other kinds of films."
I totally understand his desire to branch out. It's something he made clear back at NY Comic Con last fall, where he confessed he'd really love to make a superhero movie someday. Fast & Furious 7 is a pretty smart step in that direction, but will Wan really give up horror for good? Blum is doubtful, telling Nemiroff:
Back to what could lie in store for Insidious 3, Blum wouldn't go into specifics on the potential third film when I spoke to him. However, spoilers for Insidious: Chapter 2 ahead, as the film ends on ghost Elise continuing her life's work with the help of Specs and Tucker, there is a pretty clear path for the franchise's next installment. As to whether we'll eve see it, well, that appears to be up to Wan.
Your Daily Blend of Entertainment News
Staff writer at CinemaBlend.