Captain America 3 Will Feel Like Another Avengers Sequel, According To Anthony Mackie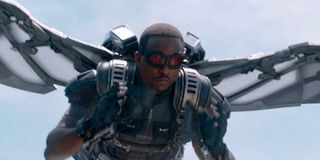 Captain America 3 aka Captain America: Civil War is sure to be one hell of a ride. With worlds colliding, this is certain to be one of the Marvel Cinematic Universe's (MCU) biggest, most explosive showings yet. Along with Anthony Mackie's most recent comments, comparing it to the Avengers films, the film has certainly caught our attention.
Mackie, who will be reprising his role of Sam Wilson/Falcon from Captain America: The Winter Soldier, seemed to be itching with excitement when recently discussing the upcoming Captain America sequel. As reported by Comic Book, he was promoting his new film Black or White but really, who can blame him for talking Marvel?
2+2 may not equal 4 in this particular case but we're pretty sure what Mackie's trying to say, is that Civil War is going to be epic! Not wanting to give away any secrets he didn't reveal much, other than talking a little bit about his character in the picture… which he did with unfettered enthusiasm.
Not one to wrongly take credit for a line like that, Mackie admitted it wasn't his creation, but a line that originated onset. He then opened up ever-so-slightly to confirm indeed that Falcon will have new digs in the highly-anticipated sequel.
Captain America: Civil War will be a catalyst moment in the MCU, forcing Iron Man and Captain America to choose opposing sides in a monstrous debate revolving around the Superhuman Registration Act, which aims to force superhumans to reveal themselves and further to register with the U.S. government. Iron Man, along with several other notables lead the pro-registration forces, while Captain America, joined by Mackie's Falcon among others, leads the anti-registration forces.
The film is expected to present the largest cast of Marvel superheroes to date in the MCU, next to the original Avengers film. It is set to star Chris Evans as Steve Rogers/Captain America, Robert Downey, Jr. as Tony Stark/Iron Man, Chadwick Boseman as T'Challa/Black Panther, Anthony Mackie as Sam Wilson/Falcon, Sebastian Stan as Bucky Barnes/Winter Soldier, Scarlett Johansson as Natasha Romanoff/Black Widow, Frank Grillo as Brock Rumlow, Daniel Brühl as a still-uconfirmed villain. More characters are likely to be announced in the coming future.
Many details for the film haven't yet been revealed but if it follows the original comic book, Spiderman will also be thrown into the mix (although he is not yet confirmed to appear in the film due to Sony's holding the character rights) and forced to choose between the pro and anti forces in a storyline that culminates toward a final epic battle, of which ultimately sees the death of Captain America. Yeah, so it's going to be insane.
Captain America: Civil War will be scripted by Stephen McFeely and Christopher Markus and directed by the brother's Russo (Joe and Anthony). It is slated for release on May 6, 2016.
Your Daily Blend of Entertainment News
Thank you for signing up to CinemaBlend. You will receive a verification email shortly.
There was a problem. Please refresh the page and try again.