Forget Civil War! Spider-Man May Show Up In This Marvel Movie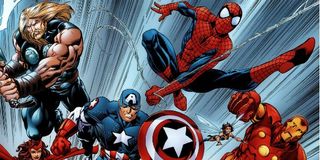 When those Sony emails leaked and teased an appearance from Spider-Man in the Marvel Cinematic Universe, fans went into a tizzy. Will he show up in Captain America: Civil War, which is already bringing in Black Panther as Captain America goes head to head with Iron Man? In light of recent reports, doubt had been cast on whether this deal actually went through. But you can rest assured now, because apparently the negotiations are still on the table! The only thing is, we might have to wait a long time before seeing the web-slinger swing in to meet the Avengers.
According to Latino Review, which revealed a ton of Marvel spoilers in its latest superhero discussion column, Spider-Man will indeed be included in the same cinematic space as The Avengers. But, reportedly, he won't be appearing in Civil War, as many of us thought. Based on information in this report, there's going to be a ton of shake-ups in the next few films, so the next logical spot to add Spidey to the mix is in the two-part Infinity War, which will kick off on May 4, 2018.
[More spoilers are included below so proceed with caution.]
Among the changes leading up to Spider-Man's debut, Latino Review confirms that there will be a varied line-up of Avengers led by Captain America by the end of Joss Whedon's The Avengers: Age of Ultron. By the time we get to Infinity War, Part 1, there will be an entirely new roster that does not include any of our Phase 1 heroes. Before then, we'll have seen movies for Ant-Man with Paul Rudd, Doctor Strange with Benedict Cumberbatch, and Black Panther with Chadwick Boseman. Captain Marvel and The Inhumans take place between the Infinity War chapters, while Guardians of the Galaxy 2 also is on the radar. Any mix of characters from these properties could be considered to join the new team alongside Spider-Man. If you want more specific spoilers on exactly how the Marvel world will be completely made over, click over to Latino Review.
We'll be seeing a lot more of Spidey, though, in all of Sony's movies mapped out before then. The question is, what's going on with Sony's Spider-Man movie expansion? There's already plans for The Amazing Spider-Man 3, The Sinister Six, a solo female-led movie and a Venom spin-off, but lately plans have seemed up in the air. After The Amazing Spider-Man 2, which was a tragic display, the Spider-Man stock is plummeting. Their third Amazing Spider-Man was delayed back to 2018, but it seems like that Sinister Six movie is still on for 2016. Perhaps all the commotion and seeming disorganization, the studio is trying to figure out how their plans can fit into Spidey's appearance in the MCU.
Lord knows something needs to be done to fix this mess. Some fans have been crying out for Tobey Maguire to return to the franchise, but that seems like a stretch. Then again, we never thought we'd see the day when Spider-Man would join up with the MCU heroes. I guess it's true what they say, "never say never."
Your Daily Blend of Entertainment News
Thank you for signing up to CinemaBlend. You will receive a verification email shortly.
There was a problem. Please refresh the page and try again.