New Captain America Civil War Promos Reveal Which Superheroes Are On Which Sides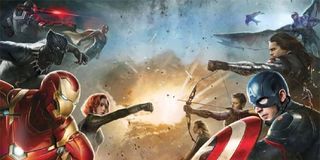 A divide is growing in the Marvel Cinematic Universe. We first saw hints of it in The Avengers: Age of Ultron, but by the time May rolls around next year, the comic book movie world will be in full blown Civil War – with Iron Man and Captain America individually leading the two sides. The big question that's been lingering, of course, is what we can expect from the loyalty of other heroes… and today it seems that we have an answer.
SPOILER WARNING: The following article may contain certain spoilers for Captain America: Civil War. If you're worried about knowing too much going in, you may want to click away now!
The YouTube channel Mr. Sunday Movies has evidently gotten its hands on some very interesting promo art for Joe and Anthony Russo's Captain America: Civil War, and within the video it's revealed just who is fighting for each side in the upcoming movie. We got a taste of the alliances during the footage that was shown during the special live-action panel at Disney's D23, but now it seems as though the alliances have been fully revealed. So let's start by talking about Team Captain America, shall we?
As you can see in this image, the folks who are opposing Captain America: Civil War's version of the Superhero Registration Act are – in order - Ant-Man (Paul Rudd), Hawkeye (Jeremy Renner), Agent 13 (Emily Van Camp), Captain America (Chris Evans), Falcon (Anthony Mackie) and Winter Soldier (Sebastian Stan). When you consider the previous interactions between these characters, as well as the post-credits scene of Ant-Man, it's not exactly a huge shock to see all of these characters working together – though Hawkeye is definitely the wild card. After all, the guy did spend years working for a government organization - but then again he also was never a big fan of it and really has worked hard to keep his private life private.
So if those are the guys who are opposed to the new superhero legislation, who are the folks that are supporting it?
Meet Team Iron Man – a lineup that includes War Machine (Don Cheadle), Black Widow (Scarlett Johansson), Iron Man (Robert Downey Jr.), Black Panther (Chadwick Boseman) and Vision (Paul Bettany). It's not too much of a surprise to see Black Widow on this list, as we saw her fighting with Hawkeye in the D23 Expo footage – but Black Panther is a bit of a shocker. Up until now, there has been a good deal of suggestion that the Wakandan hero would be playing a neutral role in the major superhero conflict that the story follows, but apparently he winds up fighting in favor of government restrictions on vigilante action.
You can watch the full breakdown of these teams in the video below:
What do you make of these lineups? How do you think the teams wind up coming together in Captain America: Civil War? Hit the comments with your thoughts!
NJ native who calls LA home; lives in a Dreamatorium. A decade-plus CinemaBlend veteran; endlessly enthusiastic about the career he's dreamt of since seventh grade.
Your Daily Blend of Entertainment News
Thank you for signing up to CinemaBlend. You will receive a verification email shortly.
There was a problem. Please refresh the page and try again.