Captain America: Civil War Won't Include This Key Marvel Player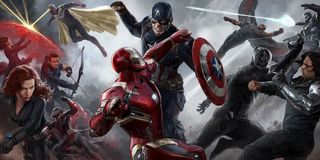 Warning: there are SPOILERS for Captain America: Civil War ahead! If you don't want to know who won't appear in the movie, turn back now and click on another one of our fine articles.
Captain America: Civil War boasts a large cast, so much so that it's been nicknamed Avengers 2.5 by fans. In addition to the participating heroes, there are a number of supporting characters who are involved in the superhero conflict, from returning folks like Thaddeus Ross to new characters like Everett Ross (no relation). However, despite previous reports to the contrary, Stark Industries CEO and Tony Stark's love interest, Virginia "Pepper" Potts.
As reported by The Wrap, Gwyneth Paltrow does not reprise Pepper in the third Captain America installment. When the movie was in production, there was no indication she was involved, but two months ago, word came out that she was involved with reshoots. However, according to this new information, Paltrow was never asked to return for Captain America: Civil War. Either way, she won't be seen in Captain America: Civil War, and her absence is attributed to breaking up with Tony Stark. As if battling his former Avengers ally over conflicting ideology wasn't bad enough for Iron Man.
Pepper Potts was one of the lead characters in the Iron Man movies, starting out as Tony Stark's personal assistant and eventually becoming Stark Industries CEO. She also briefly appeared in The Avengers at Stark Tower and later watching the Chitauri invasion on TV aboard a plane. However, she hasn't been seen in the MCU since Iron Man 3, where she was injected with Extremis by Aldrich Killian. She made it out of that encounter fine, and Tony mentioned still being with her at the end of Avengers: Age of Ultron. Evidently something happened between then and Captain America: Civil War that caused their relationship to end, and Tony alludes in the latest Marvel entry that it was because of his personality.
A lot of Gwyneth Paltrow's attention of late has been dedicated to her lifestyle brand Goop, and the last movie she appeared in was the 2015 Johnny Depp-led comedy Mortdecai, so acting isn't as much of a priority for her at the moment. Still, Pepper Potts is an important enough character that it would be great if we could see her at least one more time. With the way things are mapped out in Phase Three, the likeliest time we could see her return (if at all) are in one or both of the Avengers: Infinity War movies, which are expected to feature over 60 major MCU characters. She obviously wouldn't be one of the main characters, but a cameo would be welcome.
Despite Pepper Potts' absence, moviegoers can look forward to seeing a lot of other MCU favorites when Captain America: Civil War hits theaters on May 6.
Connoisseur of Marvel, DC, Star Wars, John Wick, MonsterVerse and Doctor Who lore. He's aware he looks like Harry Potter and Clark Kent.
Your Daily Blend of Entertainment News
Thank you for signing up to CinemaBlend. You will receive a verification email shortly.
There was a problem. Please refresh the page and try again.