The Role Julianne Moore Should Have Won An Oscar For, According To Julianne Moore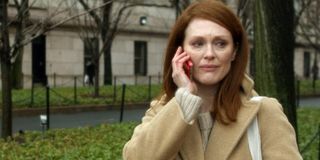 There are many (including this reporter) who think that Julianne Moore is long overdue for an Oscar win. As the 54-year-old actress revs up for another Academy Awards ceremony, where she's once again nominated for Best Actress, we can't help but look back at all the roles where she was robbed of the statuette. Though I'm sure we all have our picks as to the worst offense of this, Moore even has her own.
She has been nominated for five Oscars: Boogie Nights, The End of the Affair, The Hours, Far from Heaven and this year for Still Alice. But which past nom does Moore think she deserved to win? Vulture recently spoke with the actress at a special screening of her upcoming fantasy pic, Seventh Son, to get the answer. And it is…
…Far from Heaven!
In the film, Moore plays Cathy Whitacker, a 1950s Connecticut housewife whose perfect suburban life is turned upside down when she discovers that her husband has been sexually exploring himself in gay bars. At the 2003 Oscars, she was nominated alongside Renee Zellweger for Chicago, Nicole Kidman for The Hours (for which Moore was nominated as Best Supporting Actress), Diane Lane for Unfaithful and Salma Hayek for Frida. Moore inevitably lost to Kidman, though she has an emotional reason for why she thought this loss was particularly unfortunate.
She said before during the London press conference for the film that she normally gets uncomfortable at the thought of a screenwriter composing something specifically for her. But with Haynes, she felt he wasn't writing to what he thought were her strengths, which made it easier for her to get into the character.
Moore has been wowing audiences year after year with incredible performances, but it looks like she could break the never-ending cycle of snubs with Still Alice. Playing a woman diagnosed with Early Onset Alzheimer's Disease, Moore offers an honest and moving portrayal of this illness through a unique perspective. So often, we watch or read stories of Alzheimer's as an outsider looking in, but here Moore brings a sufferer's own intimate experience to light. She's already won the Golden Globe and SAG Awards for Best Actress, and here's hoping she walks away with the Oscar at the ceremony, which airs this February 22.
Your Daily Blend of Entertainment News