Charlie Kaufman And Spike Jonze Are Reuniting At Last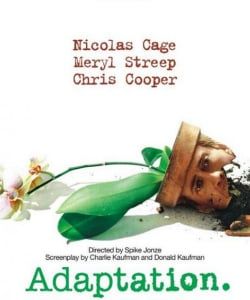 Spike Jonze and Charlie Kaufman are each visionaries in their own right, of course, but they're also much better together than they are on their own. Since the two last worked together on 2002's Adpatation, Kaufman went on to write and direct the nearly incomprehensible Synecdoche New York, while Jonze made the sweet and nostalgic but a little too simple Where the Wild Things Are. They're both doing just fine, sure, but nothing has managed to top their two collaborations Being John Malkovich and Adaptation-- and we've all been secretly wishing for a reunion ever since they went their separate ways.
And, hallelujah, they're making it so. The Los Angeles Times reports that Kaufman and Jonze are traveling around to independent financiers this week to pitch their next project together. There's no script yet, just a pitch, and you probably wouldn't be able to understand it yet even if they weren't keeping the plot under wraps. What is there to say as a movie fan beyond, "Awesome, let's hope it holds up to the hype"? It's not hard to understand why they were anxious to work together following the critically lauded and generally terrific Adaptation, and presumably they've been waiting until they could find some material they were equally enthusiastic about. Prepare to spend months dying to find out what this project is about-- and then to be scratching your head once you finally find out and don't get it.
Staff Writer at CinemaBlend
Your Daily Blend of Entertainment News
Thank you for signing up to CinemaBlend. You will receive a verification email shortly.
There was a problem. Please refresh the page and try again.