Check Out Colin Farrell's Awful Combover In First Images From Horrible Bosses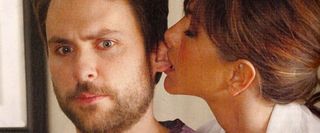 At Cinema Con last week Warner Bros. debuted the first trailer for Horrible Bosses, their summer comedy that isn't The Hangover Part II and may turn out to be even funnier; Jason Bateman, Jason Sudeikis and Charlie Day star as three doofuses who scheme together to kill their awful employers, played by Kevin Spacey, Jennifer Aniston and Colin Farrell. The movie looks goofy and energetic and original, with three breakout comic performances in the leads and three familiar actors doing something a little different as the evil bosses. Colin Farrell, in particular, seems to be swinging for the fences by donning a terrible combover wig.
While that trailer hasn't yet shown up online, the first images from the film have popped up in the latest issue of Entertainment Weekly, as scanned by The Playlist. You can get a glimpse of Farrell's awful wig, plus Aniston putting the moves on Day (he plays her dental assistant) and Spacey laying down the law to Bateman and Day. Farrell's wig, obviously, is the money shot here, so check that one out on top below. Fuller sizes are available at The Playlist, and the movie hits theaters July 8.
Your Daily Blend of Entertainment News
Staff Writer at CinemaBlend