Check Out Two Very Angry Designs For Unused Batman V Superman Posters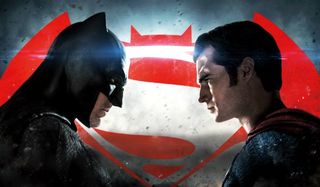 Although the first ever cinematic battle between the World's Finest didn't exactly work out that well for Warner Bros., Batman V Superman: Dawn of Justice still provided us with some truly amazing visuals. From the film itself, to the marketing posters and trailers, Dawn of Justice caught the eye of DC fans everywhere. That being said, not all of the imagery was used for the film's promotional campaign. Some new, furious looking posters of the titular heroes have just hit the web, and they show a darker side to the already somber film.
As you can quite clearly see, the first unused photo is of Henry Cavill's Superman, and he doesn't look too happy. Staring straight into the camera, and wet from the rain during his battle with The Dark Knight, his eyes glow red as he warms up his heat vision and prepares to fire off a blast. This depiction seems quintessentially Zack Snyder, as this version of the last son of Krypton appears unafraid to unleash the full force of his power in battle. It's pretty clear from the look on his face that the days of Christopher Reeve are long gone at this point; whether or not that's a good thing remains up to you to decide.
However, Superman obviously only represents one half of the Batman V Superman: Dawn of Justice equation. Another poster featuring Ben Affleck's Batman has also hit the web, and it similarly emphasizes the rage of the character. Check it out below.
That particular photo almost seems ripped straight from the film itself. It showcases Ben Affleck's Batman standing in full battle armor as he grits his teeth and prepares for combat with the Man of Steel. The picture appears taken from the moment in Batman V Superman where Clark Kent tries to reason with Batman, but the billionaire vigilante unleashes his first wave of attacks on the potentially dangerous alien.
We've seen innumerable posters for Batman V Superman: Dawn of Justice in the years since Warner Bros. announced the film, but we have to say that we think these are two of the best. They match the overall dark aesthetic of the movie, and perfectly encapsulate the anger of these two combatants. Let us know what you think of them in the comment section below!
It's a shame that these posters never made the final cut, but it seems incredibly likely that we will see even more of these unused products when the Batman V Superman: Dawn of Justice Ultimate Edition Blu-Ray hits shelves later this summer. Stay tuned for more details!
Your Daily Blend of Entertainment News
Originally from Connecticut, Conner grew up in San Diego and graduated from Chapman University in 2014. He now lives in Los Angeles working in and around the entertainment industry and can mostly be found binging horror movies and chugging coffee.
Your Daily Blend of Entertainment News
Thank you for signing up to CinemaBlend. You will receive a verification email shortly.
There was a problem. Please refresh the page and try again.