Chinese Film Critics Hate Guardians Of The Galaxy, Here's Why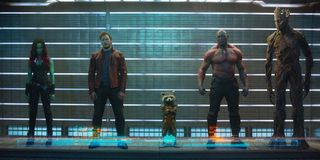 Guardians of the Galaxy is on track to be the highest grossing movie of the year, not to mention possibly the most popular Marvel outing yet. But the love for all things Groot, Gamora, Rocket, Drax and Star-Lord is being lost on the Chinese. Well, lost in translation anyway.
China Daily reports that Guardians of the Galaxy is receiving mixed reviews from Chinese film critics and moviegoers, predominantly because of atrocious subtitles. One of the could-have-been fans of the film, a social media user identified as Gudabaihua, picked out 80 translation mistakes, but notes that may not be Guardians of the Galaxy's biggest problem. Gudabaihua explains, "Aside from a lot of mistranslations, the subtitles failed to show the original feel of the movie, such as jokes, puns and homophones. We cannot help but doubt the professionalism of the translator."
As someone who has sat through my fair share of sloppy English-subtitled movies, I feel for the Chinese audiences of Guardians of the Galaxy. It's a maddening experience, where for 90-minutes or so you just feel stupid or confused because the word salad in front of you refuses to make sense. Typically, this has happened to me with niche genre films that few in the U.S. have heard of anyway. Can you imagine the level of frustration the Chinese must have experienced when a movie the whole world has gone bonkers for comes to your theater, only to be garbled by poor translation?
At least the joy of dancing Groot can't be ruined by subtitles screw-ups:
Maybe we shouldn't be too surprised by the botched subtitles, considering the translation China's distributors gave Guardians of the Galaxy: "Interplanetary Unusual Attacking Team."
Guardians of the Galaxy opened in China on October 10th, and the complaints about the translation came fast and furious. As China has become a major market for Hollywood productions, this translation snafu could pose a serious problem for its numbers there.
The distributor for this superhero ensemble in China is HuaXia. Notably, this is the same company that distributed Pacific Rim, which raised similar subtitle complaints. Yet that film banked enough in China to make a sequel possible. Other big Hollywood releases that have been accused of sloppy Chinese translation have been Men in Black III, The Hunger Games and Skyfall. All of which is shocking considering how intensely Hollywood is courting the Chinese market.
There's no word on whether or not HuaXia will be revisiting the subtitles for Guardians of the Galaxy.
Your Daily Blend of Entertainment News
Staff writer at CinemaBlend.