Chris Evans Started Marvel's Civil War Last Night, On Twitter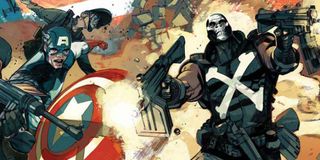 The Civil War has already begun…on Twitter. Chris Evans, who is reprising his role of Captain America in Captain America: Civil War, and Frank Grillo, the actor playing the villain Crossbones, got in a heated back-and-forth over social media on Wednesday. But, it's all in good fun, because the two were just getting into character.
It all started when Evans shared an uplifting sentiment with his 2.22 million followers. Grillo, in the meantime, has been including the letter "X" in his tweets and Instagrams that refer to his Crossbone character. This made a return appearance in his aggressive response to the Cap.
Of course, the "First Avenger" wasn't going to take this lying down, which furthered the epic battle of tweets.
Evans and Grillo are currently filming Captain America: Civil War in Atlanta, Georgia. Following the events of Avengers: Age of Ultron, the governments of the world band together to pass a controversial law that regulates all superhuman activity. This creates a rift between the team of heroes, one side forming around Tony Stark and the other around Rogers. Though Cap will be fighting Iron Man in this film, Grillo's Brock Rumlow is said to be the main villain. After revealing his true intentions as a Hydra affiliate in The Winter Soldier, he was brutally scarred after a building collapsed on him. Now he's set to return in his Crossbones form for the sequel. In the Civil War comic book run, he's credited with killing the super-patriot, though it's unclear if the Marvel Cinematic Universe will follow this same trajectory. Grillo released a photo of himself getting ready for the makeup process to put scars on his face.
These two will be joined by Rush star Daniel Bruhl as villain Baron Zemo, The Hobbit star Martin Freeman (rumored) as an interoggator, and Chadwick Boseman as Black Panther, all three of whom are new to Marvel. Civil War will also see the return of Scarlett Johansson's Black Widow, Jeremy Renner's Hawkeye, Elizabeth Olsen's Scarlet Witch, Anthony Mackie's Falcon, Sebastian Stan's The Winter Soldier and Emily VanCamp's Sharon Carter. Don Cheadle (War Machine), Paul Bettany (The Vision), Paul Rudd (Ant-Man) and the new Spider-Man (still unannounced) are all presumed to be featured. We're already starting to place bets on which superhero will take which side in the Iron-Man-vs-Captain-America battle, but, as Finnick said in The Hunger Games: Catching Fire, it's important to "remember who the real enemy is."
Your Daily Blend of Entertainment News
Thank you for signing up to CinemaBlend. You will receive a verification email shortly.
There was a problem. Please refresh the page and try again.