Scarlet Witch Back For More Marvel Movies? Elizabeth Olsen Finally Answers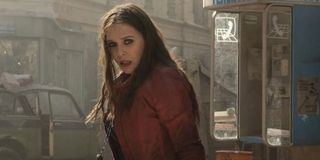 In addition to setting up what's to come down the road in future Marvel movies, Avengers: Age of Ultron introduces us to a bevy of new characters, one of the more important ones being Scarlet Witch. Elizabeth Olsen plays the telekinetic, mental-manipulating sorceress in the MCU, and she has a major part to play. Given how often new actors are contracted to appear in multiple Marvel movies, will she be back sooner than we thought?
[WARNING: This might be considered a spoiler, if you haven't seen Avengers: Age of Ultron yet, though perhaps a minor one.]
Olsen was joined by her director, Joss Whedon, at the Apple store on London's Regent Street for a Q&A called "Meet The Filmmakers." Empire magazine's news editor, Chris Hewitt, was on hand to moderate the discussion, during which time Olsen dropped a major tidbit. Though Marvel hasn't officially announced it yet, the actress confirmed that she will be returning as Scarlet Witch in Captain America: Civil War. As reported by ComicBookMovie.com, she said,
There have been a buttload of rumors floating around about how Avengers: Age of Ultron will end and which team members might be around and which ones might not, but Scarlet Witch will indeed return. If you've seen Age of Ultron — the film opened earlier for overseas audiences — it's pretty clear that the enchantress has an intricate role to play in the films ahead. We can't wait to start discussing it, but, alas, we won't get into this particular area until you've had a chance to experience the movie.
For Civil War, Olsen will be joining Captain America (Chris Evans), Iron Man (Robert Downey Jr.), Black Panther (Chadwick Boseman), Black Widow (Scarlett Johansson), Hawkeye (Jeremy Renner), The Winter Soldier (Sebastian Stan), Crossbones (Frank Grillo), a mystery character played by Daniel Bruhl (rumored to be Baron Zemo), Falcon (Anthony Mackie) and War Machine (Don Cheadle). And those are just the characters that have been announced. Again, by the end of Age of Ultron, you'll have a better idea of who's going to be returning. In addition, Marvel's newly minted Spider-Man is expected to appear. Though he hasn't been officially cast yet, some actors said to be up for the role include Asa Butterfield (Ender's Game) and Nat Wolff (The Fault In Our Stars).
So far, Civil War is looking like one big sausage fest, so at least we have some female energy — though it's faint. Plus, Scarlet Witch is a solid character. She may not have the reality-warping magic like her comic book counterpart, but she packs a major punch.
Your Daily Blend of Entertainment News
Your Daily Blend of Entertainment News
Thank you for signing up to CinemaBlend. You will receive a verification email shortly.
There was a problem. Please refresh the page and try again.