Chris Pratt Talks Indiana Jones, Is The Reboot Happening?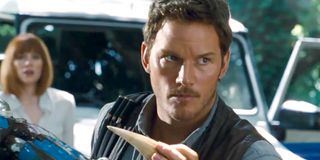 Chris Pratt is the new Harrison Ford…in a sense. Instead of Star Wars, he has his own epic sci-fi space opera — that also dubs as a superhero movie — and he pretty much looks like Indiana Jones all dressed up as his Jurassic World character. But when talk emerged of him being eyed to headline a new reboot of the daredevil archaeologist, the Internet went up in a blaze of glory. So, will or he won't he pick up the iconic hat and whip?
TMZ caught up with Pratt to get a statement about the potential casting. Actually, "ambushed" is more accurate word, as he had just gotten off a plane when he was bombarded by the cameras. Nevertheless, when asked about whether he was in talks to become the new Indy, the Guardians of the Galaxy star said:
The news of Chris Pratt's potential ascension to Indy actor broke a couple of weeks ago. With the Marvel movies doing gangbusters at the box office and the Star Wars franchise gaining new life with Episode 7, coming out this December 18, Disney turned its attention to bringing back the Indiana Jones franchise. While developments are in their early stages, the Mouse House was said to be eyeing Pratt, though no official talks had been confirmed at the time. However, these latest statements from the man himself prove that he hasn't in fact been approached yet, but time will tell. You can watch his full reaction in the video below. It presents a strange context, a non-denial, non-confirmation:
This wasn't the first time Chris Pratt addressed the reports. During a press appearance for his Hasty Pudding Man of the Year award, he said, as quoted by ComicBook.com, that it would be an "awesome opportunity" to play Indy. And frankly, what better man for the job? The only thing is that his scheduling is filling up fast. Not only does he have his Marvel commitments — Guardians of the Galaxy 2 is coming in 2017 — he also has Jurassic World (which could easily lead to sequels), as well as the Magnificent Seven remake with Denzel Washington and more LEGO movies. Though we think he'd be perfect for the role, is it beneficial for him to be involved in yet another massive franchise? As Jennifer Lawrence will tell you, being involved in essentially everything can be exhausting.
There's been chatter about reviving Indiana Jones for a new generation for some time now. It was pretty much assumed that more would be coming our way back when Disney bought up Lucasfilm, but there was also that rumor that suggested Ford only agreed to return to Star Wars if it meant more Indy. If Kingdom of the Crystal Skull was any indication, it's definitely time for him to pass his hat along to a protege…just as long as it's not Shia LaBeouf.
Your Daily Blend of Entertainment News