Civil War: What We Know About Black Panther's Costume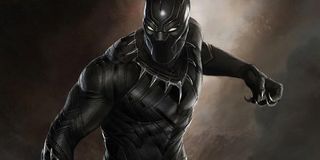 Captain America: Civil War is packed with familiar faces from the Marvel Cinematic Universe, but there are also a few new characters showing up. One of these is T'Challa, the king of Wakanda, better known as Black Panther, played by Chadwick Boseman. While Marvel is keeping mum on what he's up to in the threequel, concept art of T'Challa's costume was shown last year during the Phase Three film slate announcement, and it's faithful to his comic book duds. Now new information reveals what the costume may be lined with, and it's going to spell trouble for Captain America.
JoBlo.com describes Black Panther's movie costume as being coated in vibranium, the same metal that Captain America's shield is made of. During a fight with the Star-Spangled Avenger, the Wakandan king will actually scratch the shield, making him especially dangerous to the patriotic hero. The article notes that even though Black Panther will be on his own mission separate from the larger Civil War conflict, T'Challa will be on Tony Stark's side, at least in the beginning. There is also said to be a Panther jet appearing that looks "Stark-like in its technical buildout." Is this something that Tony might give T'Challa as an incentive for siding with him, or is this jet a product of Wakandan manufacturing?
If this report is true, it's not surprising that Black Panther has woven vibranium into his costume. Like in the comics, it was noted in Avengers: Age of Ultron that the metal is one of Wakanda's greatest natural resources. Although it isn't indestructible (a combination of Thor's lightning, Tony's repulser beam, and Vision's Infinity Stone blast slowly melted away Ultron's vibranium coating), it's essentially the most durable metal on Earth. Just look at what Steve Rogers' shield has been through during World War II and his present-day adventures. Aside from few superficial dings, nothing has been able to actually damage it, though it was seen cracked in half in Tony's vision in Avengers: Age of Ultron. If Black Panther wants an edge this fight, he needs to fight fire with fire.
As for why Black Panther is fighting Captain America (aside from possibly as a way to get on Tony's good side), it was recently rumored that the Wakandan king may be hunting down Bucky Barnes for some transgression committed while serving as the brainwashed Winter Soldier. Steve and Sam Wilson have been on their own search for Bucky since the end of Captain America: The Winter Soldier, and seeing as how they don't have any hard feelings towards him, it stands to reason they'll try to protect him from people who have a bone to pick, hence the claws vs. the shield.
After debuting in Captain America: Civil War on May 6, 2016, Black Panther will lead his own film set for release on July 6, 2018.
Your Daily Blend of Entertainment News
Connoisseur of Marvel, DC, Star Wars, John Wick, MonsterVerse and Doctor Who lore. He's aware he looks like Harry Potter and Clark Kent.