Cloudy With A Chance Of Meatballs 2 Comic-Con Panel Live Blog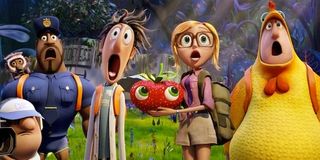 Sony and Screen Gems have blocked off a little over two hours to show us what they have in store. This panel will feature Cloudy with a Chance of Meatballs 2, The Mortal Instruments: City of Bones, RoboCop and The Amazing Spider-Man 2. With so much to sort through, we're dividing this live blog up into parts. This part focuses on Cloudy 2 - due out this fall - the animated follow-up to Sony Pictures Animation's Cloudy with a Chance of Meatballs. Our appetites are whet for whatever it is Sony has in store for us. Anna Faris and Terry Crews are set to appear on the panel, along with directors Cody Cameron and Kris Pearn.
Here's the official description for the panel:
4:14 - Starts with a video of the voice cast in a costume room finding costumes to go with their characters. Some of them are more into their costumes than others. Bill Hader struggles to get into character in his white lab coat. Andy Samberg loves his chicken costume. They all get ready to go to Comic-Con in their costumes. Terry's wearing a tiny police outfit. When the panel starts, he comes out onto the stage wearing the hat. He opted not to go with the rest of the tiny outfit.
4:19 Kris and Cody say it took two and a half years to do this sequel. Bill Hader gets congrats on the Emmy nom. He talks a little bit about doing voice work as opposed to acting. There's more screaming. Anna Faris says there's an assumption that animated movies are easier for actors, but it requires a different skill set. And your voice is kind of shot after four hours or so. Terry says his family loved the first one. When he learned that someone wanted him to come in and do the role after Mr. T wasn't coming back, he was determined not to mess it up. He says he's honored to be a part of this.
4:23 - The movie begins a minute after the first movie ends. They're celebrating their victory when the new characters show up. Will Forte voices Chester, who comes to clean up the island. Flynn gets a job working for Chester. Kristen Schaal is another new character. Chester is one of Flynn's heroes. He runs LiveCorp. We get to see Flynn's first day at work at LiveCorp.
There's an island with a giant lightbulb. A lightbulb shaped fountain. Kristen Schaal is an ape named Barb who introduces herself to Flynn. She offers him a soy latte and asks Flynn if he's ready to live. The head into LiveCorp where there are caffeine stations every ten feet and 24-hour available caffeine patches. Indoor sports are encouraged. No one is good at volleyball here. Everyone's excited about their great ideas, especially the guy with the pink "idea pants" he's wearing.
Next clip is Flynn gathering the gang back together again. Flynn comes to Sam to tell her he's going back. She insists on coming. They go to Earl and he joins them. Then they get Baby Brent and they head off to take on deadly food animals.
4:30 - Hader got distracted by a guy in the audience and cut Faris off while she was talking about seeing the finished product after doing her part. She notes that there's a huge process to animating it and it's amazing to realize she's just a tiny party in that process. They show us a slide of the foodimals. Straberry wtih eyes and legs. Carrots, limes and other fruits with faces. We get to see the berry animated, and a walking pickle with a cane. He's funny looking. They show us the Sardine Circle watering hole. They say they wanted the food to look delicious. Everything needed to look fresh and delicious. And scary. But maybe not all the food is bad.
Next clip s hows the Foodimals. They arrive by boat and want to get to the lab. Then the see the water filled with various foodimal animals. Cantaloupes with big teeth and bananas that walk like ostriches. Stampeding ostriches. Great "piece of cake" line that cuts to an actual piece of cake. Terry Crews' character says it's enough to make a grown man cry. "But not this man. Get back in there, tear." And the tear crawls back up into his eye. "There's a leek in the boat!" Leek joke. Nice. Strawberry gets so scared, jelly squirts out. And that ends the panel!
Assistant Managing Editor
Kelly joined CinemaBlend as a freelance TV news writer in 2006 and went on to serve as the site's TV Editor before moving over to other roles on the site. At present, she's an Assistant Managing Editor who spends much of her time brainstorming and editing feature content on the site.
Your Daily Blend of Entertainment News
Thank you for signing up to CinemaBlend. You will receive a verification email shortly.
There was a problem. Please refresh the page and try again.