Cobie Smulders Is Wonder Woman In The Lego Movie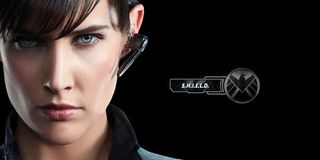 Cobie Smulders is already Agent Maria Hill in the Marvel universe, and now she gets to be Wonder Woman! OK, technically she's only Wonder Woman in Lego form, as she's been added to the upcoming The Lego Movie, which broke the news during their Comic-Con panel today. She's not alone, either-- Channing Tatum and Jonah Hill are on board as well, with Tatum voicing Superman (of course) and Hill jumping in as the Green Lantern. Again, entirely in Lego form.
Coming from Cloudy with a Chance of Meatballs and 21 Jump Street directors Chris Miler and Phil Lord, The Lego Movie was already looking a whole lot more surprising and interesting than you might think from the basic idea of a Lego movie. During today's panel, which you can read about in its entirety in Eric's live blog, Miller and Lord revealed that the film is actually a mix of CGi and actual stop-motion Lego figurines-- and they don't want you to know which is which. See if you can figure it out in the first trailer below:
Believe it or not, the Lego movie won't be the first time we see the Justice League characters in action as squatty plastic figures. Check out the short film made by fans with their own DC Comics Lego figures. Think Smulders, Hill and Tatum can live up to that? OK, yeah, they probably can.
Your Daily Blend of Entertainment News
Staff Writer at CinemaBlend