Warner Bros. And Legendary Pictures 2013 Comic-Con Live Blog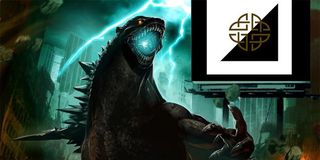 San Diego Comic-Con's entire programming schedule is filled with great stuff from the film world – tons of which we've been seeing all this week – but there's no question that Saturday is cinema's biggest day with the throngs of geeks in Hall H. Just about every panel that comes through the convention center's biggest space today will deliver sneak peeks at some of the biggest blockbusters coming up this year. And the party all starts with Warner Bros. and Legendary Pictures showing what they got.
The official schedule for the event and reports from previous weeks confirm that this morning's impressive two-and-a-half-hour presentation will provide us with early looks at titles including Godzilla, Gravity, The Lego Movie Edge of Tomorrow, and 300: Rise of an Empire and Seventh Son, but we know better than to think that's all we can expect. The studios undoubtedly have some big surprises in store for us, and we can't wait to find out what they are. Keep refreshing this page and follow my live-blog below as we get underway!
10:50 a.m: Jeff Bridges to the stage to introduce Seventh Son! He dubs the movie chock full of myth- which moderator Chris Hardwick says should be put on the poster. And we're already seeing some footage! Plenty of action and cool looking monster battles on display.
10:58 a.m: Director Sergei Bodrov, Kit Harrington, Ben Barnes and Anje Trau on stage
11:00 a.m: Trau says that coming to this film after Man of Steel was a totally different experience.
11:01 a.m: Barnes plays a pig farmer named Tom Ward who believes that he is meant for something greater, and then one day Jeff Bridges shows up at his house and his mother actually sells him to Bridges. While he's treated as a servant at first, eventually they create a bond and he becomes a fighter of evil. Asked about working with Bridges, he jokes that he had actually never heard of him beforehand. He then admits that he was the reason that he took the part.
11:03 a.m: Kit is Bridges long term, long suffering apprentice. He has grown good at what he does, but isn't good enough. He says that he is in a very action packed sequence. As far as filming fantasy, he says that he has definitely suffered and talks about being under a rain tower for days and days. Not the most comfortable of circumstances. But he's amazed at the thought and money that goes into it.
11:05 a.m: Fan asks about the amount of physical action in the movie for Bridges given his age. He says it made him feel like a kid again – which is what acting is all about. He says he had some wonderful stunt coordinators. He says that the trick with big movies like this is marrying CGI with all of the practical, amazing things. John Dykstra is doing the special effects – and Chris Hardwick notes that he is actually dating Bridges daughter.
11:08 a.m: Fan asks about the challenges of balancing CGI and live-action. Bodrov gives a lot of credit to the actors for having a lot of real reactions and forgetting CGI. First it's the action and the physical action, and the CGI is secondary.
11:09 a.m: There seems to be a lot of action, emotion and romance, but what is the hardest part? Traue says that the biggest challenge was fighting in her feathery dress – much different than fighting in Faora's suit. Barnes says he was very happy not to be fighting in a dress, but gives a lot of credit to the fight teams for helping with staff fighting and throwing knives. They wanted to make the fight scenes different than what we've seen It was also really hard to just do climbing scenes, where he was constantly being scraped and hurt while filming. Bodrov also was very helpful in shooting out of sequence and helping him stay in character. Kit says that the physical form of the character really helps inform the character that he is playing. He says that he had to do a wire pull in this one, which he had never done. He was warned about a "light tug," but it turned out to be a bit more than a light tug. Bridges says that for him the challenge comes in telling the story. Sergei and him talked about it quite a bit and he ran into a quote that kept him on track. To paraphrase" If only it were so simple, if only there were evil people somewhere committing insidious deeds and that we could go somewhere and destroy them… but evil runs through all of us and no one is willing to cut out a piece of their own heart. He says that humans have been given a wonderful evolutionary gift of imagination, and we can dream of peace. It's a struggle and a lesson that we have to learn over and over again. It's like drinking too much – how many times do you have to learn the hangover lesson?
11:16 a.m: In Gaelic culture the seventh son of the seventh son is gifted with second sight, and the fan is curious how close it sticks to that myth. Sergei says that it stays pretty close, but that they also take liberties. We'll find out more when the movie comes out.
11:17 a.m: And that's a wrap on Seventh Son!
11:18 a.m: Footage of a black and white atomic bomb explosion on screen! It's Godzilla time!
11:18 a.m: Hardwick notes that last year we got to see a mood piece that set up the tone of the movie, and now they're showing it again!
11:20 a.m: The clip is just as awesome and epic as it was last year!
11:21 a.m: Director Gareth Edwards, Elizabeth Olsen, Aaron Taylor Johnson, and Bryan Cranston on stage!
11:22 a.m: Gareth says that the last day of shooting was two days ago. They had a night shoot, got on a plane and headed to San Diego. Saw posters for Kick-Ass and Breaking Bad and says it was kind of surreal. He says that he had an incredible amount of creative freedom from Legendary, which was completely different than anything he's done.
11:23 a.m: Olsen says she expected the filming experience to be totally different than what she had done before, but that it actually felt as small and comfortable as her other films. Aaron says that Gareth brings that intimacy to the filmmaking process.
11:25 a.m: Cranston says that Godzilla was always his favorite monster when he was young because he was unapologetic. As a boy he e just wanted destruction. He says that he was hesitant about taking the part because of the size of the shoes to step into, but after meeting Gareth and seeing Monsters, the director's first film, he totally changed his mind.
11:29 a.m: Gareth talks about going into Canada and being questioned by customs about entering the country. When he said that they were making Godzilla the custom's officer's response was "Don't fuck it up"
11:30 a.m: Gareth jokes they had a wish list of actors to make the movie, but then he had to settle for these guys. He's viewing this movie as no different as Monsters and making it his passion project.
11:32 a.m: Hardwick says that they have some stuff to show off as well, and Cranston stands up and pretends to take off his pants. Cranston says that his pet name for "it" is Godzilla.
11:33 a.m: It's footage time! Stay tuned later for the full footage description!
11:37 a.m: Hardwick gets a call from Thomas Tull, the head of Legendary Pictures. Apparently they have something to roll! It's mood footage from the upcoming Warcraft movie from Duncan Jones! Read all about it HERE!
11:40 a.m: Thomas Tull out on stage! Introducing director Duncan Jones! With Warcraft he gets to start building a world, but also wants to please all the fans. Says that production will start in early 2014.
11:43 a.m: Time for 300: Rise of an Empire!
11:48 a.m:Rodrigo Santoro, Eva Gree, Sullivan Stapleton and director Noam Murro on stage!
11:49 a.m: The story takes place at about the same time as the first movie, but is bigger and gives a whole new scale and scope to what happened historically. Rodrigo says it was exciting to revisit the character and says it was going to be a very interesting challenge. We see some
11:52 a.m: Eva says that her character is thirsty for vengeance and says she almost sees the character as a Joan of Arc character. She says that it's cool to play strong, crazy women on screen and let it all out only to go back home and listen to classical music.
11:53 a.m: Sullivan says that his character is trying to unite all of the Greeks against the invading Persian forces. He says that the battles don't get in the way of the story, but that he had to
11:54 a.m: Rodrigo says he had no fun getting back into shape for this character. He entitled himself as a god king, so a god look had to be found. He had to workout a lot, the wardrobe has a lot of gold. He doesn't see the character as evil, instead seeing it all as shades of grey. He tries to accomplish what his father could not.
11:56 a.m: Noam says that working with Zack Snyder was a dream and that he was really helpful, while also stepping away and letting Noam do what he does. He says it was the best relationship he could ask for.
11:57 a.m: Audience Q&A time!
11:58 a.m: Noam says that they are done shooting, but that they are still deep in and that it's starting to look very good. There's still more to be done. Like the first movie, everything on the set was green and when he got back home he got rid of everything green in his house. They did, however, fully construct ships and a mess of sets
11:59 a.m: Eva says that it was major to have real actors in front of her. She says it was like theater in that she had to use her imagination as much as possible. Rodrigo actually had to give her all of his lines off camera because he's so much taller than her.
12:00 p.m: In terms of visual style, Noam says that he battled with creating a style that could fit with the game-changing first movie while also being something fresh and his own. He wanted to create a visual language. Setting the movie on water gave something completely different and new as well. All of the battles have their own specific look and style, but it was a challenge because they were shooting without water.
12:02 p.m: And that's a wrap on 300: Rise of an Empire!
12:03 p.m: Now the Legendary Pictures part of the panel is over and we're kicking off WB with Gravity!
12:03 p.m: Alfonso Cuaron coming out on stage! And now it's time for some footage! Come back later to see our full description!
12:13 p.m: Producer David Heyman and Sandra Bullock out on stage!
12:14 p.m: Bullock says that this is her first comic-con – huge applause from the crowd. She says that she plans on exploring later.
12:15 p.m: Bullock says that it was scary that the technology being used for the movie had never been used before and mathematically being put together. It was the brainchild of tons of people working together. Never really thought about it being just her and George – the physical aspect was too scary.
12:16 p.m: Bullock calls Cuaron an evil puppeteer who orchestrated the whole thing. Cuaron says it was a very challenging film to make and that at one point Bullock had to be isolated in a 9x9 cube of LED lights. Outside were robots holding the camera. There were rows and rows of computers and a bunch of very wise geeks doing a lot of work. Bullock was totally insolated in the cube. Bullock chose to stay in the cube even between takes just to be comfortable. The focus wasn't the technology, though – it was the emotional journey.
12:17 p.m: David Heyman says that an amazing robot was invented in order for them not to show gravity. They didn't want any sense of it. The camera was moving at 20-25mph and could stop on a dime – racing towards Bullock and would stop an inch from her nose. Iris was the name of the robot.
12:18 p.m: Bullock was locked into a grid so that you would oscillate – and she actually couldn't move away from the camera if she wanted. By the time she hit the button it would have been too late.
12:19 p.m: Vomit Comet- massive plane that falls out of the sky and creates a sense of weightlessness. Bullock did it to get ready for the part, but she is terrified of flying. Clooney was the one who told her about it. She was strung up by wires for hours, but it was still better than the vomit comet. Zoning out of pain or using it was important.
12:21 p.m: Bullock was able to hear music that gave her the sense of being in space. The whole experience made her want to do a comedy right after…which she did
12:21 p.m: Bullock says that the workout was very gymnastics oriented, and that she actually had experience from her history with dance. She wanted her core to be 100% ready for the experience. She also wanted the character to look androgonous because she had a great loss in her life and didn't want to be reminded of what she lost as a mother.
12:24 p.m: Cuaron says that it was a process working with the studio on the film. There was the suggestion of the easy way, but that's no fun. They were fully behind the film from every standpoint and part of the push to develop the tech was an executive at WB. This is one of those stories in which the studio was really behind the project. At one point they suggested putting her in an office chair and just spinning around – but that was too easy. And then they went from office chair to robots
12:24 p.m: He says the point of making movies like this and Children of Men is not knowing exactly what he is doing. Heyman says it's sometimes a pain, but that Cuaron never settles and is always pushing the envelope.
12:27 p.m: Vanishing Point and Runaway Train served as inspiration, but what they really wanted was an emotional journey.
12:30 p.m: That's a wrap on Gravity!
12:32 p.m: And now it's time for The Lego Movie!
12:35 p.m: Apparently the movie's look was inspired by fan videos, and is a mix of both CGI and stop motion – but they don't want you to know which is which in the real movie.
12:36 p.m: Test footage now being shown!Characters from the movie shown audioning for their parts in the film. Even the directors get their own mini-figs. Voices like Chris Pratt, Will Ferrell, Will Arnett, Elizabeth Banks, Liam Neeson and Morgan Freeman are all featured in the video!
12:39 p.m: Directors Phil Lord and Chris Miller still can't believe the amazing cast that they got for the movie, and adds names like Nick Offerman, Allison Brie and Charlie Day!
12:40 p.m: Channing Tatum is playing Superman in the movie and Jonah Hill is playing Green Lantern in the movie! And Cobie Smulders will be the first film version of Wonder Woman!
12:41 p.m: Producer Dan Lin says that fans actually created Lego scenes from the film. Chris Miller says that everything in the movie is all Lego, from the explosions to all the settings. They also wanted to put in all kinds of different building styles.
12:43 p.m: New lines of toys are also being created for the movie and the studio recognized that everything had
12:45 p.m: Chris Miller says that this project was the first that they made without tons of skepticism about it.
12:46 p.m: They wanted to include as many different sets in the movie as possible, but eventually had to cut it down. Apparently Chris Miller's mom even sent over his original sets to be used for the movie. They wanted to make this movie feel to an extent that with enough time it could be made in somebody's basement with the biggest collection of Legos
12:48 p.m: They can't reveal the actors that voice the Teenage Mutant Ninja Turtles characters, because Warner Bros. has installed robotics in their chests that will explode if they share secrets.
12:52 p.m: That's a wrap on The Lego Movie!
12:54 p.m: And now it's time for Edge of Tomorrow, starring Tom Cruise!
12:55 p.m: Apparently the folks from the panel haven't arrived yet, so now we get to enjoy some awkward silence…
12:56 p.m: Director Doug Liman, writer Christopher McQuarrie, producer Ewrin Stoff, Emily Blunt, and Tom Cruise out on stage!
12:57 p.m: Tom Cruise reveals that he and Chris Hardwick both starred as Stacee Jaxx in Rock of Ages! Albeit one was in the movie while the other was in a production in Los Angeles.
12:58 p.m: Footage time! I'll have the full description later!
12:59 p.m: Liman says that the movie follows a man who got a power and keeps reliving a major day in a war against an alien race.
1:00 p.m: This is a very different kind of movie for Emily and she says it was the hardest movie she's ever made. She learned Krav Maga for the part as well as gymnastics and weight lifiting. She and Tom saw each other early in the morning at their least glamorous. Apparently the heavy suits also made them change their attitudes 180 degrees – and Doug chimes in that they were much nicer out of their big suits.
1:03 p.m: Cruise says that he has always wanted to work with Doug Liman and loved what was done with McQuarrie's script. Alien invasion films have now become a trope and now we understand the language of it, allowing it to go in new directions.
1:04 p.m: Emily Blunt's character goes by both Valkyrie One and "Full Metal Bitch".
1:05 p.m: Bill Paxton is in the crowd! And now he's heading to the stage! The author of the book All You Need Is Kill is also here!
1:06 p.m: Cruise says that it was more than just about action, and is also about character and emotion. He says it also has a unique female character. Emily Blunt was also amazed at everything that Cruise was doing.
1:07 p.m: Paxton says that there was a colonial marines part to the film. And now he's quoting Aliens! "Game over, man! Game over!" And Chet from Weird Science too!
1:09 p.m: Bill Cage, Crusie's character, is in the army and is a PR guy who created the campaign to help unite and bring America into the global conflict. He's having a very easy war, and has really made his name off of the campaign he's created. He ends up through various mistakes politically in the invasion the next day in an exo-skeleton suit. It's about the character's journey in the middle of the storm.
1:10 p.m: McQuarrie says that the central idea in the book made the basic story really interesting and really it was about structuring it. That was the fun of the movie and watching Doug and Tom bring it to life. Tom's character is also a huge coward, and apparently he's brilliant at it.
1:11 p.m: Paxton says that Tom does a great job of balancing both humor and dramatic elements to it. Bill Cage is a fish out of water, while Paxton's character thinks that he is a deserter who wants to show Cage what the war is really like. And Paxton is apparently a worst nightmare character.
1:12 p.m: Cruise says that first and foremost he wants a good story and this film and the elements that came together creates something special.
1:13 p.m: Audience question time! How did the actors get ready for the paradoxes that come with time travel? Cruise says he has read and gone over time travel ideas, but it was really working from McQuarrie's script that kept the actors in the story and figuring that. Emily says that her character is meeting Tom for the first time every day, which is an exciting and challenging relationship. Doug says that she figures out how he works as time goes as well.
1:14 p.m: Did Tom draw on any earlier characters for this role? Cruise says he didn't, and that it was just a great original character and a great two-hander. It's an organic process of picking up the character from the page.
1:18 p.m: Final question! What was the most challenging stunt that Cruise had to do in the film? Cruise says that he just wants to do everything he can to entertain his audience and that it's a dream to deliver that. With the movie they talked a lot about the suit he's wearing – which weighed 120 pounds at times. It was incredibly hard to do stunts in the suit, and it was particularly hard to do falls. Liman says that Cruise was always pushing what they were doing with the action and then did it all himself.
1:20 p.m: And that's a wrap on Edge of Tomorrow!
1:23 p.m: But we're not done yet! Zack Snyder coming to the stage!
1:24 p.m: He thanks everybody for their response to the movie and he has some news about what they are doing with the future of Superman! They are officially making another Superman movie! What is the movie about? What's going to happen? Man of Steel's Harry Lennix comes out! The thing that will help tell that story: "I want you to remember Clark. In all the years to come, in all the most private moment I want you to remember my hand at your throat. I want you to remember the one man who beat you." SUPERMAN BATMAN ANNOUNCED!!! And the crowd goes nuts!
1:24 p.m: And that's a wrap on the Warner Bros. panel! Tune back in later today for descriptions of all the footage we got to see!
Your Daily Blend of Entertainment News
Assistant Managing Editor
NJ native who calls LA home and lives in a Dreamatorium. A decade-plus CinemaBlend veteran who is endlessly enthusiastic about the career he's dreamt of since seventh grade.